6 Things to Consider Before You Start a Kitchen Remodeling Project
Even the highest quality design renovation cannot always make your house more convenient and comfortable. In most cases, remodeling is indispensable. Yet, some optimization is always possible.
What is a kitchen remodeling project?
A kitchen remodeling like any other remodeling project requires designing various layout options. A visual designer can apply 3D visualization or illustrations to ensure proper planning of spatial arrangement as well as to match the customer's expectations and finalize the requirements.
Kitchen remodeling documentation is prepared to embody all the wishes for the design of the house interior and to approve them between the contract parties. This is how the kitchen remodeling contractor can ensure that implementation is not going in the wrong direction. Depending on the complexity of design solutions, the volume and types of design documentation may vary. The better the initial customer's requirements are gathered and visualized, taking into consideration all possible implementation constraints, the more successful the remodeling project will be.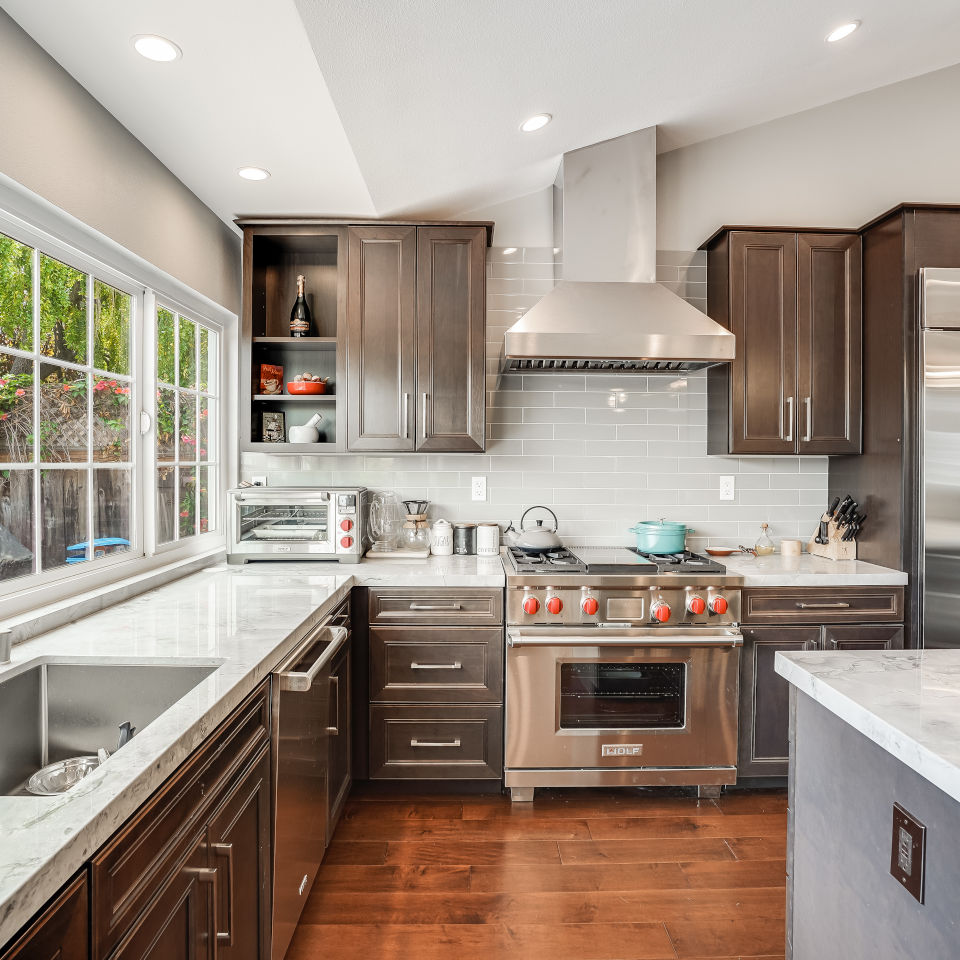 What the remodeling project includes
First of all, a kitchen design project includes the idea of creating something new. This "new" is always in the strict framework of style and design. Before starting to "break down the walls," review the alternative solutions of already finished works with design and decoration.
Choose interesting moments and write down what exactly you liked so that later you can recreate something similar in your kitchen island. After having considered your alternatives, read the literature on the styles and decoration of houses. This is important because different styles and kitchen remodeling designs are suitable for different sized rooms.
6 steps before you start a kitchen remodeling project
1. Basic project
Before creating a base, decide on the style for the entire house and each room separately. Listen to professional advice and the preferences of each family member. Pay attention to the lighting.
2. Computer visualization
After finishing the development of the design project of the kitchen in a computer program, you can create a 3D visualization. Thus, you will find out how the selected furniture, textures on the walls, and textures on the floor will look. During the home renovation process, you can put a person in the project and walk them through the rooms. This will help you to see all the curved corners in the house, blind, gray areas, and, if something at this stage does not fit into your idea, fix everything.
3. What materials are better to use
For the facade and furnishings, smooth, light materials with a glossy effect are selected in order to visually increase the small area. It should be borne in mind that the close location of the work area will be prone to frequent contamination. Materials that are resistant to aggressive influences and temperature extremes will come to the rescue. These can be natural or artificial stone countertops.
For a minimalist style in the kitchen, materials such as glass and metal surfaces are appropriate, ideally emphasizing the chosen design and not weighing down the interior composition. Glass doors can be made on the facade or the countertop. The chrome-plated metal details fit perfectly into this kitchen design.
4. Interior style
In this case, the simpler the chosen style is, the more appropriate it is for a small space. Minimalism will do an excellent job. There is not much decor in it. A minimum of color is used, clear geometry has no blurred borders.
Having designed a high-tech kitchen, you can get a stylish, fashionable interior in a compact room. The abundance of glass and metal, combined with clean lines and strict symmetry, will make every detail meaningful.
The classics will be appropriate only if light colors are used in the design, for example, natural light-colored wood. You should give up unnecessary decorations, especially stucco moldings on the ceiling and walls.
The Provence style, characterized by many decorations, decor, wallpaper, will make the kitchen visually even smaller, so it is better to refuse it.
5. Optimal color scheme
A small kitchen involves the use of light palettes, calm, unobtrusive tones. Pastel and light shades are recommended for small areas to visually create a spacious effect and expand the walls. A light kitchen island will seem more spacious and light; it will always be comfortable and cozy to cook and eat in it.
Important! In no case should you choose dark saturated colors that eat up space as well as make it compressed. Otherwise, the completed repair will look depressing and dull.
Consider what popular color schemes are relevant for small kitchens. White looks elegant and neat. A neutral tone blurs the boundaries of the space so that it looks bigger. You can prefer white facades, household appliances, countertops, and ceiling to make your kitchen 'breath.'
It is better to make the floor darker. A monochrome white kitchen in a white version can look boring, so the color should be diluted with one or two accompanying ones. It can be black, gray, blue, green or yellow.
It is quite possible to diversify the beige shades in the kitchen with a bright apron over the work area. Bright inserts of purple, red, orange will supply the kitchen with its original accents, but the chosen tones should be applied in other places of the room.
The blue color scheme for the kitchen creates a cool, spacious atmosphere.
Light green with yellow undertone. This combination looks fresh and interesting and allows you to transform a small room and make it visually brighter. Beige in the kitchen creates a lot of coziness, tranquility, and warmth; it will be relevant for most design styles, especially for the classics.
6. Not recommended
Initially, pay attention to the entrance area. If the doors open inward, this is not a very good option. In this case, you need to change the opening in the opposite direction or completely do without a door, having issued the original arch.
The refrigerator should not be placed next to the oven, as it will be exposed to heat.
When choosing an apron over the work area, you should not choose a solid image or color. Otherwise, any ingress of drops of water or grease will immediately catch your eye.
In the wall decoration, try to avoid using large bright patterns and designs that contrast with the general background. Images that are too small do not look harmonious either. It is best to choose medium sizes or vertical geometry.
A cluttered space will become an unsuccessful solution, so it is necessary to get rid of all unnecessary things that do not carry a functional load and use all kinds of decor to a minimum.
The main task of the kitchen remodeling contractor is to provide a balanced, high-quality, clean light space that will reflect the character and taste of the owner.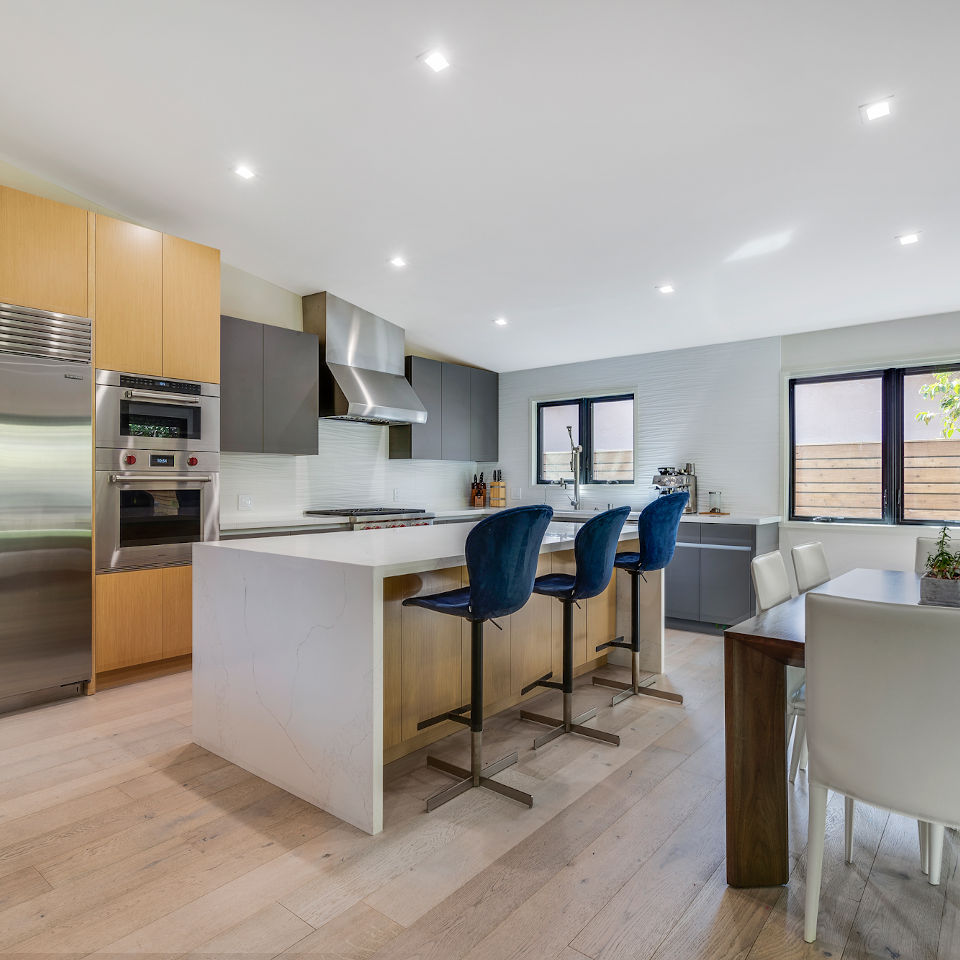 Are you still wondering how to do a design project for the kitchen?
Everything is straightforward. The main thing is to adhere to the rules, know graphic programs, have taste and skills, do not demolish the load-bearing walls, and clearly follow the plan with the dimensions of your room. Good luck with your renovation!
Of course, you can try to do everything yourself. Yet, it is better to seek help from specialists in planning and interior design. You can be sure that kitchen remodeling contractor San Jose, will be engaged in the development of a technical project, help to coordinate any required legalization efforts, as well as to obtain a conclusion about compliance with operational standards and a new notarized property right.
Contact SOD Home Group today so that we can give you an up-front proposal on the price of your kitchen remodeling job.