6 Top Kitchen Design Trends in San Jose, CA
The kitchen has always been a special place in the house. After all, it's not just about cooking and eating here. Usually, this is a meeting place for the whole family after work. In the kitchen are often arranged tea parties of old friends, relatives, godparents. Therefore, any family wants her kitchen to be the best and most comfortable.
Literally every year, designers come up with new features in the custom home and design of kitchens. Some trends take root well and are used for several seasons or become, so to speak, an eternal classic, that is, do not lose relevance at all.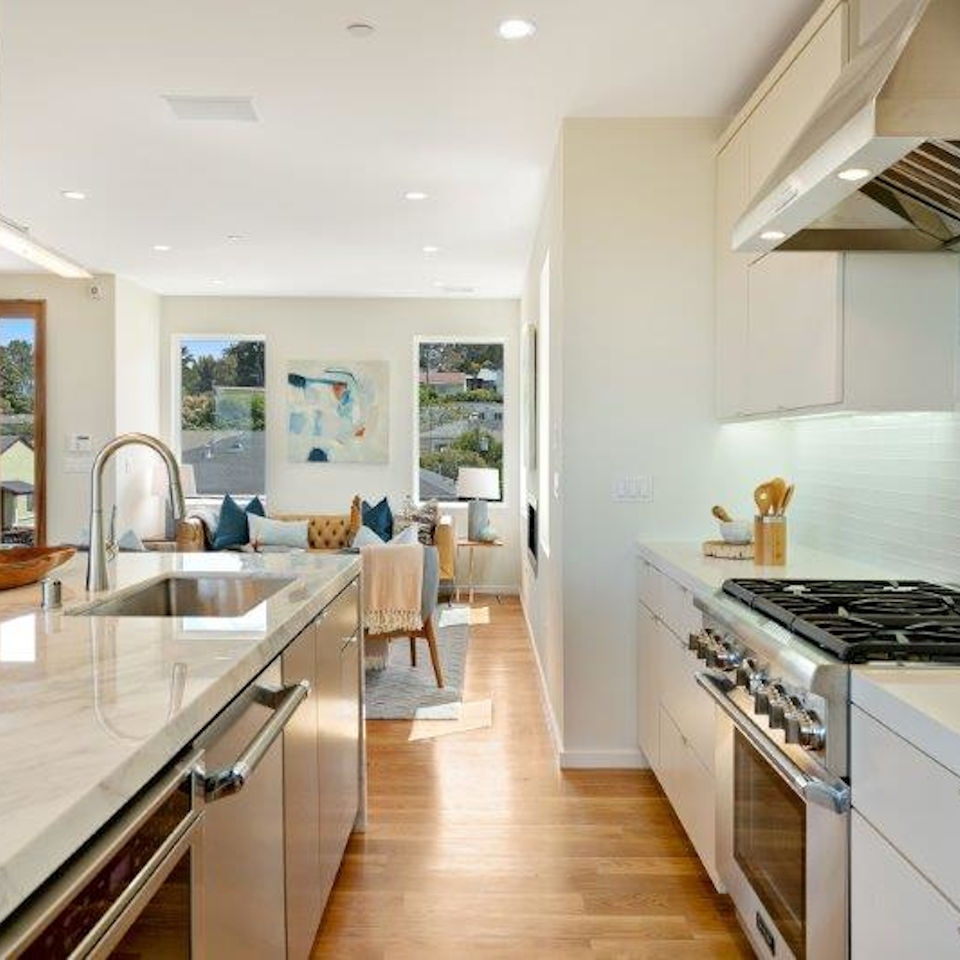 New items in kitchen design
Modern kitchens are preferable to be laconic with separate expressive elements. The concept of such a design is to use one specific style with a harmonious addition from another, opposite to the first style. Kitchen design novelties will be a combination based on such styles as:
industrialism;

high tech;

loft;

minimalism.
The style of minimalism is especially popular due to its maximum simplicity in interior design. They prefer to complement it with motifs of the Mediterranean style since they can favorably fit into almost any overall design of the entire house or apartment. A combination of old sets and impeccable modern facades is considered very popular today.
Large kitchen design
There is a misconception that the home design of a large kitchen is much easier to accomplish than a small one. This is far from the case since an ample space requires more concentration on trifles, competent zoning of the territory, and the correct placement of accents. For the fashionable design of a large kitchen, two main styles are used that, better than others, can emphasize the scale of the space, harmoniously filling the entire perimeter without leaving empty zones: classic style and modern.
Among the newest kitchen remodeling and design, which became popular in 2020 and in 2021, we can highlight:
Conciseness. Kitchen furniture in a modern design should be decorated without too original details and accents. Restraint and elegance – not just a fashionable approach, but also a convenient feature, as such headsets remain relevant for many years;
Lack of handles. They are replaced by special opening systems, which are easy to click, or in cheaper versions – hidden recesses under the fingers;
Light colors. The days when colorful furniture was in vogue are a thing of the past. Now in vogue Scandinavian style, which is characterized by light shades in the design: white, milk, gray, beige, ecru;
Natural textures. Especially in honor – a tree or its imitation. Moreover, this trend remains relevant for many years, and the design under natural texture is harmoniously combined with any design and color scheme. As for the facades, it is still an advantage on the side of closed cabinets. However, gradually designers are beginning to use open shelves, and we should not rule out the possibility that such a move will soon become a trend.
The ease and accessibility of performing basic actions in the kitchen for all people living in the house will be in demand. Accordingly, the installation of high-tech, safe and energy-saving equipment with an optimal location and the possibility of its effective use in everyday life will be relevant and a priority in modern design.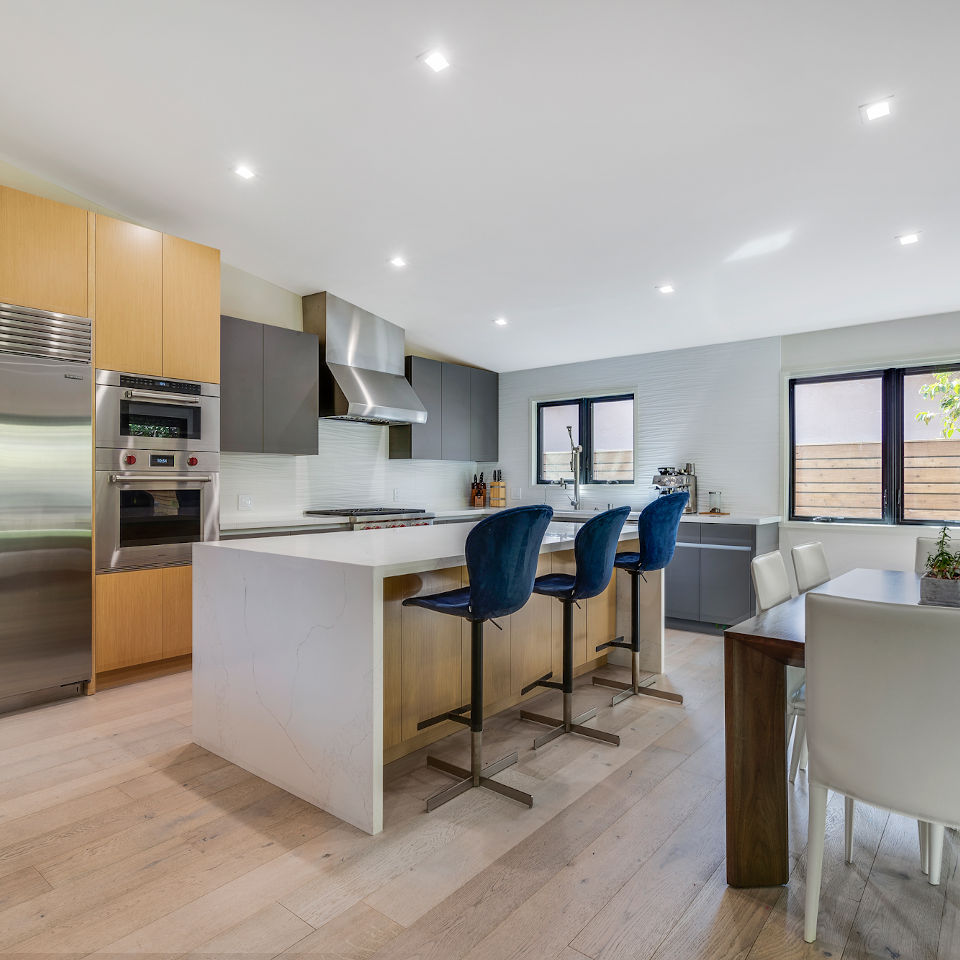 Typical Californian style colors
Thinking of California and its famous beaches of Malibu, Santa Monica, San Diego and Venice Beach means immediately remembering very light colors and shades such as traditional white, cream, beige, and very soft yellow. White kitchens are popular for many reasons: White is a calm, neat, versatile, and intensifying light. In addition, the white color in the interior is generally a very relevant trend.
The white color of the painted solid wood furniture is also easy to change: the white cabinets are great for giving them a fresh (clean) look in the future, simply by hand painting. White is an excellent backdrop for layering color and texture.
Of course, white kitchens are more likely to appeal to potential buyers if you decide to sell your property.
Trend № 1 – Additional tier
There are not many cabinets in the kitchen. And why not use the space on top, placing there an additional tier of kitchen cabinets! Here you can hide everything that is not used in daily life – sets of holiday dishes or groceries. Another idea for rational use of space at the top – to hang cabinets under the ceiling.
Trend № 2 – Combination of styles
The skillful combination of different styles in the interior of the kitchen brings liveliness, irony, freedom. So feel free to combine stylish chairs, a massive wooden table, and minimalist furniture, the main thing – to harmoniously combine the composition with a competent arrangement and color.
Trend № 3 – In the center of attention – a functional rack
The rack is the main island in the kitchen, which divides it into zones. Above it elegantly hang glasses from above, and from below on shelves, there are beautiful jars and bottles. The fusion style gives a special charm to the kitchen interior.
Trend № 4 – White
Feel like flying in the clouds! The white kitchen in modern style with a table-top made of acrylic stone, a white facade, and a marble floor will do the trick.
Trend № 5 – Slate board
Slate board is a real find among the decor items in the kitchen. It is enough to paint any surface with special paint, and you have ready an original, engaging, and handy thing in the kitchen. Now you can write shopping lists, compose menus, and in general anything.
Trend № 6 – Design with perspective
The apron of this kitchen is made of a tile which color practically merges with facades, creating a noble natural shade under concrete. Usually, over time, we want to rearrange something, change, including the color of the walls. It will not be difficult to implement this with such material: it is enough to just repaint them.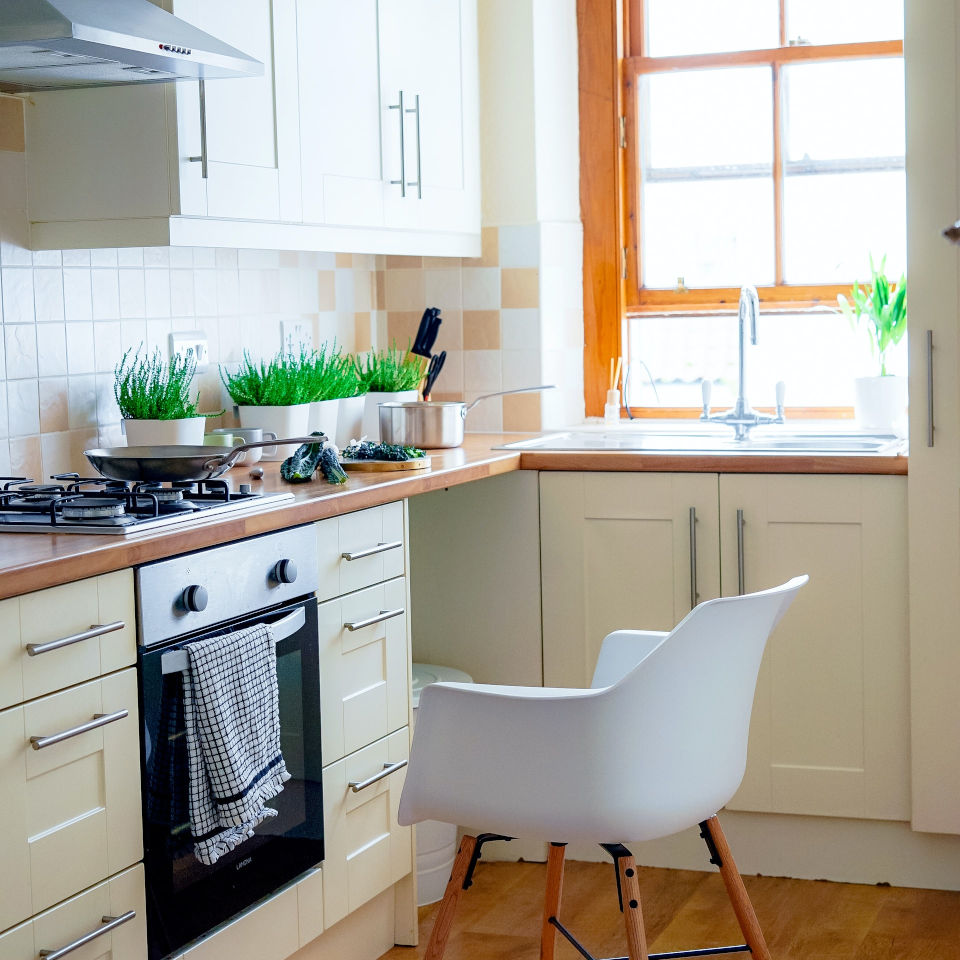 Kitchen islands
The Great Kitchen Islands of 2021 will be the epicenter of all affairs. They will have storage cabinets and will be equipped with various appliances under the bottom while providing seating – serving as a dining and/or beer table. To accommodate the increased size of the islands, we are seeing a trend for homeowners to make kitchens in open design homes. This ensures that the kitchen island can be multifunctional without cluttering or taking up space in the kitchen.
How to decorate the interior of the kitchen in a modern style
Creating a fashionable interior design of the kitchen is not rocket science. However, this will require studying the features of each style, making accurate measurements of the room, and spending a lot of time looking for quality building materials, the necessary furniture, and decorative elements. You will also need the skills of an artist, designer, architect. Considering the required complexity of such a project, it is recommended to entrust the design of the kitchen to a professional remodeling contractor. SOD Home Group specialists visit the site on their own, take measurements, take into account your wishes, and offer several options while saving your time and effort. In the meantime, you will be able to do your business.
Let's have a chat about your project!