Complete Guide to Kitchen Remodeling in Irvine, Orange County, CA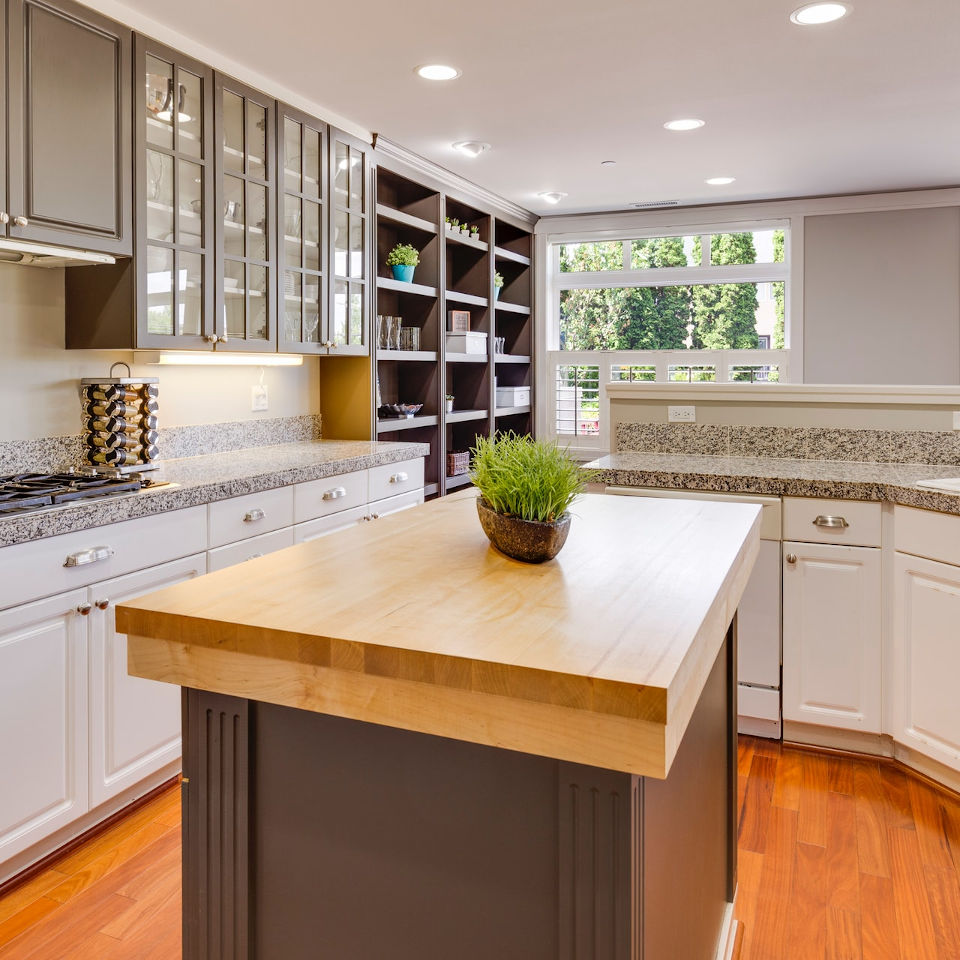 Kitchen remodeling can be a stressful process and sometimes result in unexpected costs, delays, and upheaval in your everyday life. However, with thorough planning and knowing what to expect, the project has every chance of being completed quickly, under budget, and with minimal strain on your household.
In this complete guide, we will walk you through the kitchen remodeling process and any potential obstacles you may face, with a focus on completing the work in Irvine, Orange County California.
How to plan kitchen layout?
The layout of your new kitchen is vital if it is going to flow and be fully functional. This is the stage that many people overlook and miss out on the chance to customize their new kitchen so it meets their requirements and remains workable for years to come.
Let's ‌look at the key considerations when planning the layout for your kitchen remodel.
Consider tasks you do frequently and ensure your new kitchen is set up so everything is at hand. Coffee cups are next to the coffee machine, plates and dishes are next to the dishwasher, etc.
Think about the walkways and make them as wide as possible. In a busy kitchen, you want to minimize the chance of bumping into another person, causing an accident, especially if you have small children. A wide walkway also gives you enough room to maneuver when cooking.
Direct traffic through your kitchen so the entrance and exit doesn't impede someone when they are preparing meals. Ensure there is easy access to social areas and the refrigerator to avoid congestion.
Plan the swinging of doors to avoid them banging into each other, or impeding access to appliances. When placing cabinets, it is always a good idea to avoid corners, unless they are a bespoke design.
Other considerations include placing the microwave at the right height, allocating ample landing space next to appliances, leaving enough workspace on countertops, well-placed electrical outlets, and safely storing away dangerous items such as knives and cleaning products.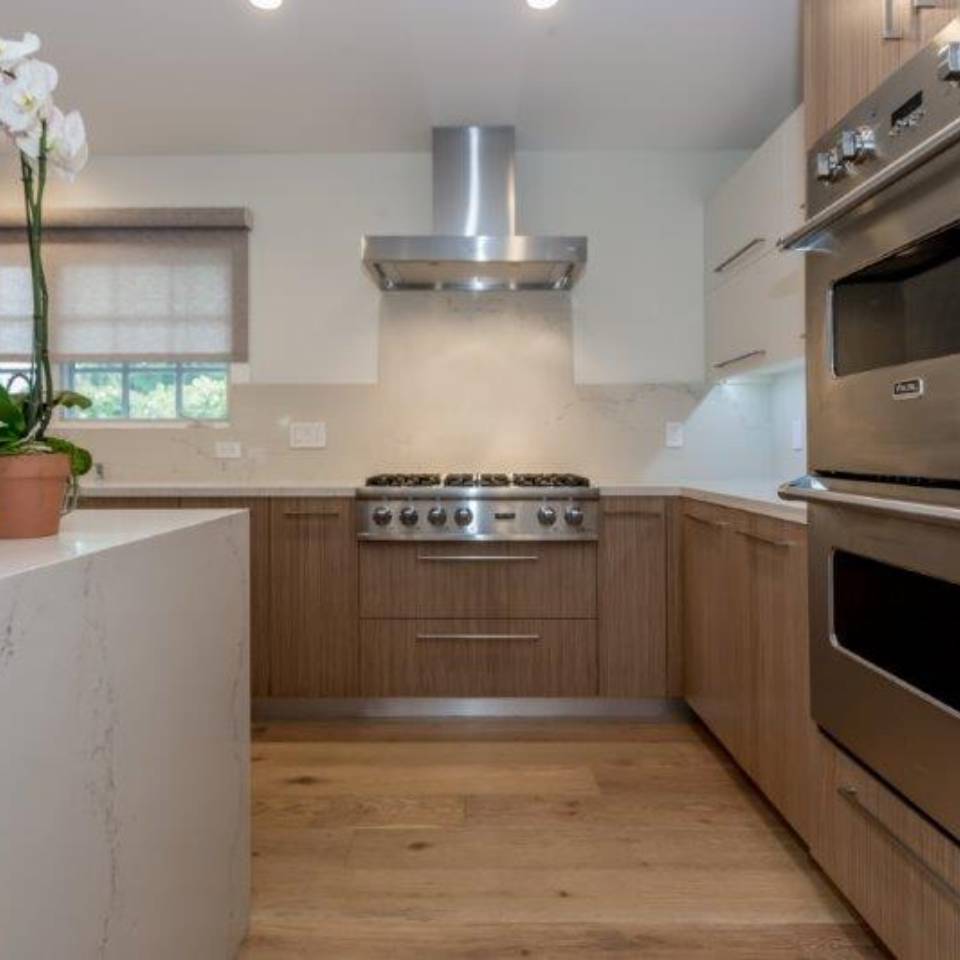 The step-by-step process for remodeling a kitchen?
In this section, we will outline the 11 steps of a kitchen remodel, from demolition to flooring.
Research, Plan, and Design

As per the previous section, planning, including the layout, is vital for a successful project, so do as much research as possible and consider hiring the services of a professional designer who can implement modern trends and ideas.

Get Permits

Research what permits you will need to complete the project based on the requirements in California. If you are unsure what permits you actually need, then it may be a good idea to discuss this with your chosen kitchen remodeling contractor.

Demolish or remove elements of your existing kitchen

Before you can create a stunning new kitchen, you will need to remove the old one, in particular, tired or damaged elements that need upgrading or inconvenient walls that block light or limit ‌space. This removal process could stretch to flooring, old cabinets, fixtures, and maybe even the plumbing.
Although this may seem a fun DIY project, it is advised to consult with an experienced contractor to assess the work to protect the integrity of your home's structure.

Framing, Plumbing, and Electrics

Once the removal work is complete and you have a blank canvas, then it is time to install the ‌plumbing, electrics, and wall framing.

Finish the walls

With the plumbing, electrics, and framing fitted, you can now finish the walls – drywall, plastering, and painting. It may be a good idea to invest in a high-quality primer at this stage to help protect against future scuffs and scrapes.

New Door and Window Installation

The shell of the kitchen is taking shape, and the drywall is complete, so this is the stage where we would recommend installing the new windows and doors. Opt for the most energy-efficient option within your budget to retain heat and help reduce your annual utility bill.

Cabinetry and new fixtures

The most visually pleasing part of any kitchen remodeling project, installing the new cabinets and the fancy new plumbing fittings gives you an opportunity to see your kitchen take its new form. The installation of the new sink and faucets may require the services of an experienced plumber as you may encounter issues such as incompatible water pressure.

Appliances

The kitchen is pretty much finished, but it won't be particularly functional without the appliances… Once things like the stove, refrigerator, and dishwasher are installed, your kitchen is almost complete. This stage may also require professional assistance.

Flooring

Your cabinets are looking great, the walls are fresh and clean, and the appliances are perfectly fitted, so the only thing missing is a fancy new floor to complete the remodel.

Whether you are opting for tiles, wood, laminate, or any other sort of material, saving this part till last is ‌generally a good idea, but of course, this step could also be completed before the installation of the cabinetry.
Click here for some modern kitchen remodeling ideas to help you choose the perfect design.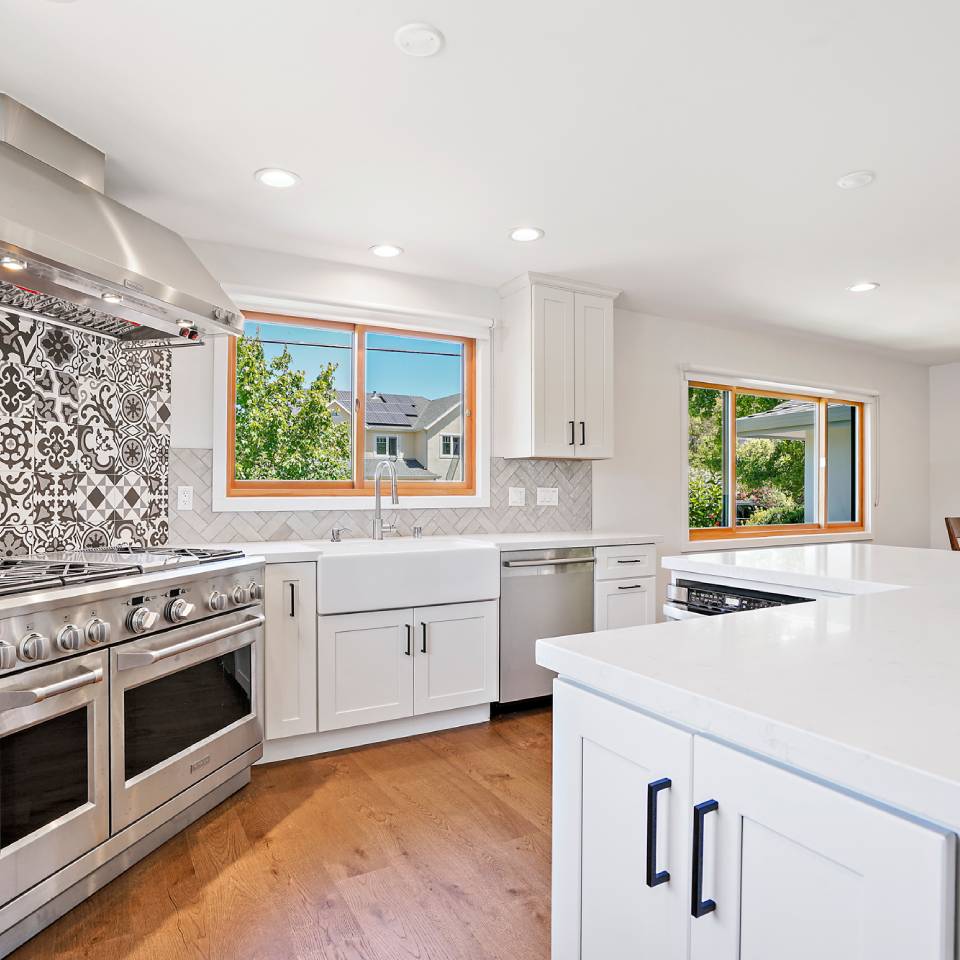 What unexpected costs can come up during kitchen remodeling?
There are many issues that could affect your next kitchen remodel and drive up costs. Below are some of the unexpected costs that could come up during the project.
Issues with the walls such as hidden water damage
Problems with the electrics and plumbing, requiring a full replacement
Changing your mind on key elements mid-project.
The impact on your home life and being without your kitchen, meaning you may need to eat out regularly or use the launderette. Timing your kitchen remodeling with your annual vacation may be a good idea.
New furniture, accessories, and dishware to match your beautiful new kitchen.
Where to find a kitchen remodeling contractor in Irvine, California?
SOD Home Group is an established and trusted kitchen and bathroom remodeling service based in California. We have built a strong reputation as a leading contractor across the state and have provided personalized services in Irvine since 2008.
Get in touch with us today to discuss the requirements for your kitchen remodel.