DIY Kitchen Renovation Ideas for Your Next Home Makeover Project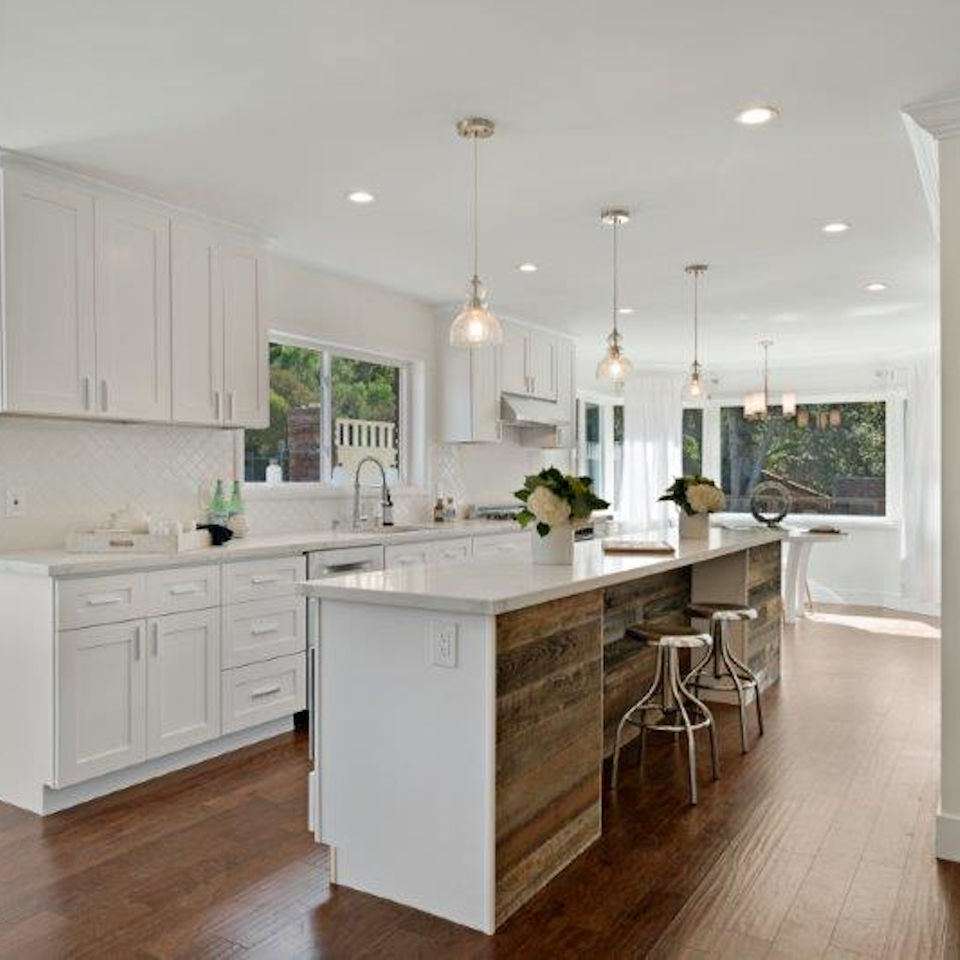 So, i is time to renovate your kitchen and the budget is tight, so to save costs you are considering completing some of the work yourself. However, you are unsure where to start and which areas of the kitchen can be improved DIY-style.
You have come to the right place.
We will outline the cheapest ways to update your kitchen, share our hacks on how to modernize your cabinets, and provide an overview on upcycling. Our DIY Kitchen renovation ideas are sure to point you in the right direction for your next home makeover project.
What is the cheapest way to update a kitchen?
If you are confident enough, then attempting to do some of the work yourself can save quite a bit of money. However, for larger jobs such as removing walls, plumbing, or installing a new floor, we would always advise using a professional contractor, as any mistakes could be very costly.
There are many tutorials on Youtube to help you complete a number of kitchen renovation jobs yourself, so if you enjoy DIY and are looking for a new project, updating your kitchen with some clever touches could be a fun challenge.
How can you update kitchen cabinets without replacing them?
In many cases, your old cabinets will still be perfectly fine in terms of the quality of the wood, however, the paint work may look a little tired and the handles and hinges could have seen better days. If this is the case and your cabinets have only been subjected to a little wear and tear, then a simple re-paint and new handles can give them a new lease of life.
You could opt for a bold new color that matches any fancy new appliances you have and give your kitchen a redesign at minimal cost.
On the otherhand, if your cabinets have chips, deep scratches, or the hinges have come away from the frame, then it may be time to invest in some brand new ones and consider a full kitchen cabinet renovation.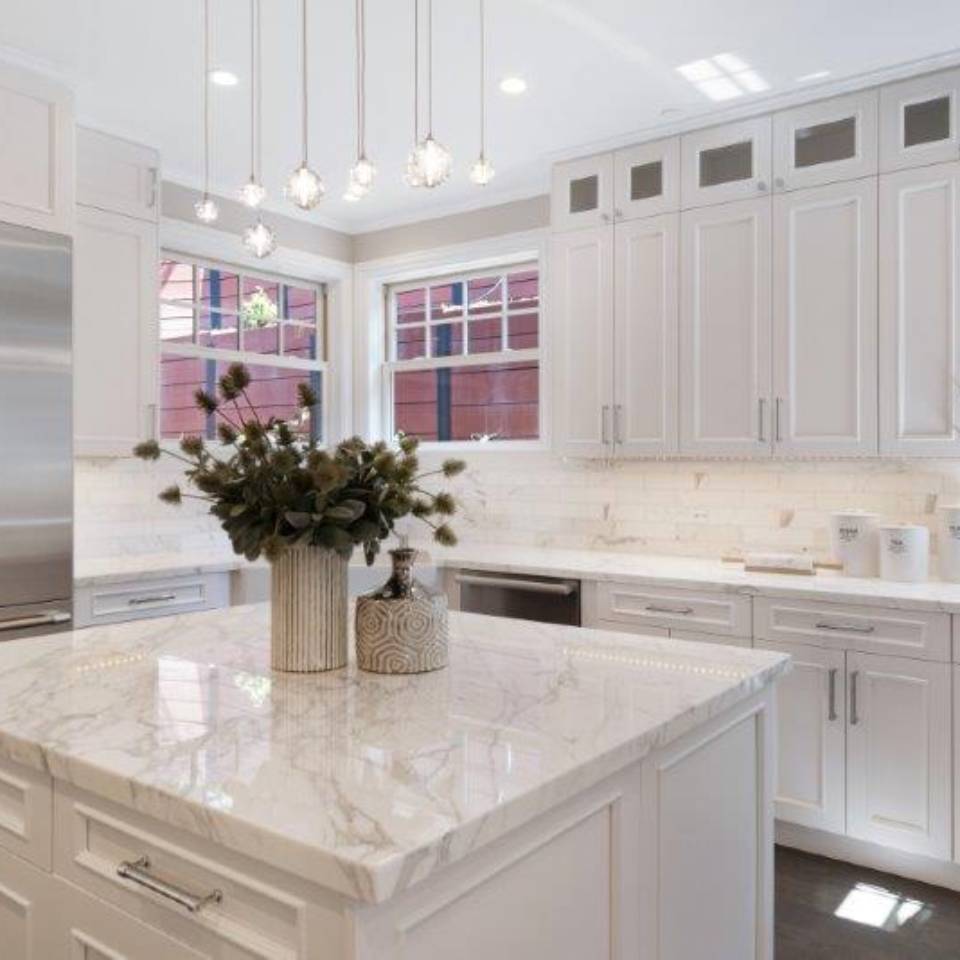 How can I make my kitchen look better on a budget?
If you are working with a small budget and using professional kitchen renovation services isn't an option, then there are number of ways you can improve the look and feel of your kitchen without breaking the bank.
Below are our 6 tips on making your kitchen look more attractive on a budget.
Upgrade your lighting

New lighting can work wonders in terms of making your kitchen more inviting, and creating a more ambient atmosphere for social occasions. A very easy and cost-effective way of modernizing your kitchen, plus most light fittings are very easy to install.

For a contemporary-look, recessed lighting in shelves and alcoves can really add depth to your kitchen, while another option is to use a mix of warm and white lightbulbs.

If you are really looking to save on costs, then you may consider secondhand light fittings that can be resprayed to match the color scheme of your kitchen.

Another factor to consider is that LED lighting is much more energy-efficient when compared to traditional lightbulbs and can help lower your energy bill.

Add an attractive backsplash

One of the best ways to personalize your kitchen is by adding a backsplash, bringing extra color and texture to the room and acting as a feature wall. Mozaic patterns, white subway tiles, or perhaps Portuguese or Spanish-style tiles to bring a continental feel while you are cooking.

Tiling is not the easiest of tasks but it is something you could attempt yourself, especially if you practice some tiling techniques on some backerboard before letting loose on your walls.

Make the room seem visually larger

A good idea may be to remove some redundant upper cabinets to increase the amount of space at eye-level, making way for shelves, or perhaps even some artwork. Open shelving can be much more convenient, giving you quick access to appliances and items you use on a daily basis.

Even just removing the doors from upper cabinets and painting the inner shelves can help to make the kitchen appear a little more open, ideal for a small kitchen renovation.

Replace old fittings

It may seem unimportant but adding a shiny new faucet can really bring the kitchen up-to-date.

It is not uncommon for people to buy faucets that are not compatible with their kitchen, and as sometimes these items cannot be returned, they are usually resold at a fraction of the price. Be careful not to make the same mistake however, and double check what fittings work with your plumbing system.

Bring in some decorative touches

Decorative touches can work just as well as a new paint job, especially antiques if you are aiming for a more classical, French theme, for example. Consider items such as an Art Deco mirror, subtle art work, an antique lamp, vases, or if we're being really fancy, maybe a chandelier?

Incorporate some greenery

Plants can help really add a calming element to any room and can conveniently hide some of the less attractive parts of your kitchen. If you are a fan of nature and want to add a burst of color to the kitchen on the cheap, then plants could be your best bet.

Plant options could include:

Hanging plants from shelves
Windowsill herbs such as Oregano, Rosemary, and Basil
Cacti or Aloe Vera to brighten up tables and countertops
Magnetic plant pots for your refrigerator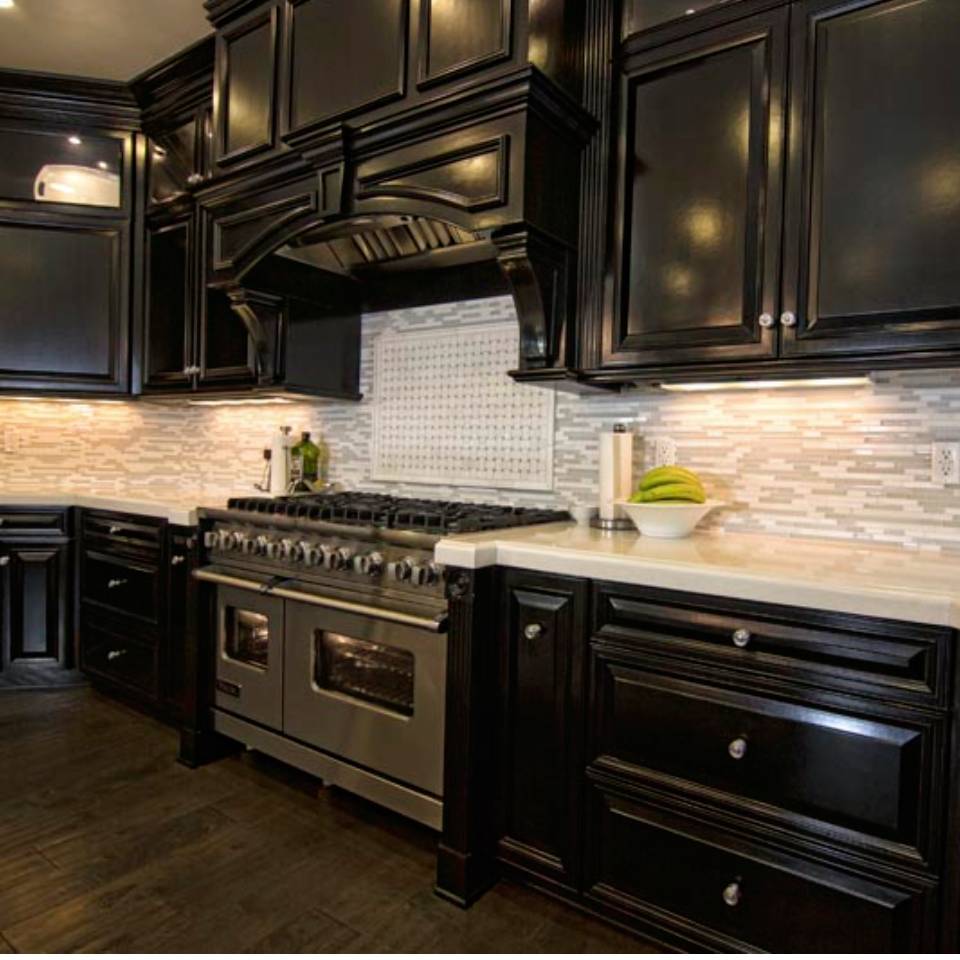 Kitchen Renovation Ideas – A Quick Guide to Upcycling
Savvy DIY experts have embraced the world of upcycling, turning old, unwanted items into something reusable and beautiful, sometimes at incredibly low cost. A clever way of keeping a lid on kitchen renovation costs.
What is Upcycling?
Upcycling is simply the method of taking an unused or discarded item or piece of furniture and cleaning it up, refinishing it, or taking certain parts from it to create a high-quality product that has value.
This trend has become increasingly popular as more and more people look at ways to help the environment and stop usable items being sent to landfill. Not only this, but it can also be a fun hobby and save hundreds of dollars when furnishing your home.
What are some Kitchen Upcycling Examples?
Kitchen Upcycling examples can include:
Turning old cutlery into wall hooks
Converting an old dressing table into a kitchen island
Painting old wooden spoons as novelty wall art
Give an old dining table a matte finish for a modern look
Arranging old vases and plant pots as quirky utensil holders
Do you need to hire a contractor for a kitchen renovation?
For small tasks such as the ones mentioned above, it could be fun and cost-effective to complete these tasks yourself as a part of a DIY kitchen renovation. For larger jobs such as demolition work, the installing of new plumbing or new flooring, and a full cabinet replacement, it may be sensible to use the services of an experienced contractor.
SOD Home Group have specialized in kitchen renovations across California since 2008 and have an impressive portfolio of kitchen designs of all shapes and sizes.