How to Design a Modern, Functional Laundry Room?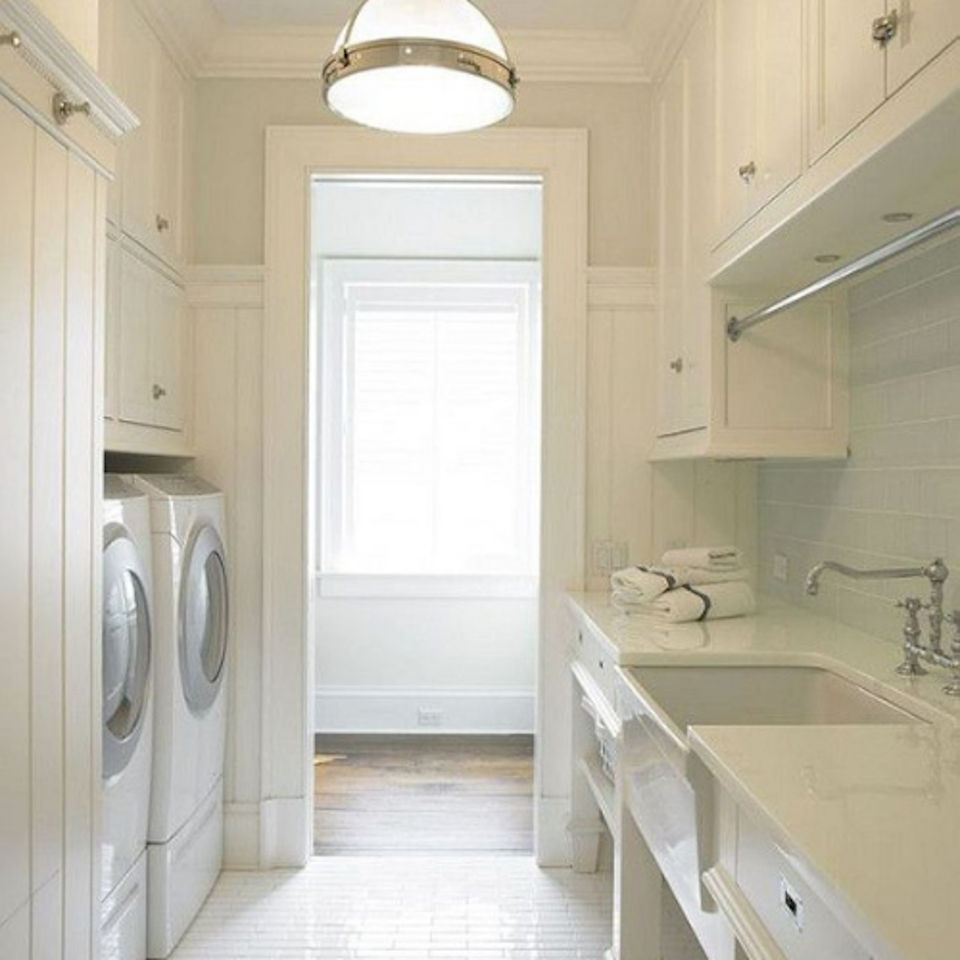 Bespoke laundry rooms are becoming increasingly popular across the United States and California, as homeowners look to reduce clutter and design more functional homes. Zoning off areas and rooms for specific tasks and uses is certainly a growing trend, as this can create a much more streamlined and comfortable environment.
Here, we will discuss the key benefits of designing a modern and functional laundry room, and the best practices when doing so.
The Benefits of a Custom Laundry Room
Below are a number of reasons ‌you should consider designing a new custom laundry room. Whether you are considering a large basement or garage remodel, or a small room addition, your very own bespoke laundry room can make a huge difference to your home life.
One of the main reasons for building a custom laundry room is to free up room in other spaces of your home. The laundry room can accommodate your washer and dryer, space can be designated for dirty clothes, and you can also create an ironing station. This can help to declutter your kitchen, bedrooms, and any other areas that might be prone to some laundry spillover.
You can design your laundry room to match your tastes. No one particularly enjoys doing the laundry and ironing, but it is much better to do it in a room that looks good, is spacious, and has everything you need.
A laundry room can add value to your home. Just like a second bathroom or guest bedroom, potential buyers are willing to pay more for added functionality and luxury.
How do I make my Laundry Room more functional?
Of course, you want your laundry room to look great, but it also needs to be functional. This means it has to have everything you need to complete your chores. It all needs to be in easy reach, and you must have sufficient storage.
Here are 6 ways to create a functional laundry room that can make your life easier.
Install a utility sink for an additional source of water to assist with a range of tasks.
LED strips underneath wall cabinets can provide functional task lighting for jobs that require more focused illumination. Consider a range of lighting options in your laundry room, just like you would a kitchen or bathroom.
Maximize your drying options with a hanging rack. If the room receives ample airflow and natural light, then this is a good way to reduce your energy bill as an alternative to using your dryer.
If you have children, then designating their own area to place dirty clothes is a good way of getting them into good habits and keeping their bedrooms tidy.
Add some comfortable seating to take the load off when you are folding and arranging clothes. This can also provide you with a place to do sewing or any other repair work.
Easy to clean flooring means your laundry room can provide the family with a place to dump their muddy shoes on a rainy day, without leaving a mess in other areas of your house.
Click here to learn more about how to design the perfect laundry room.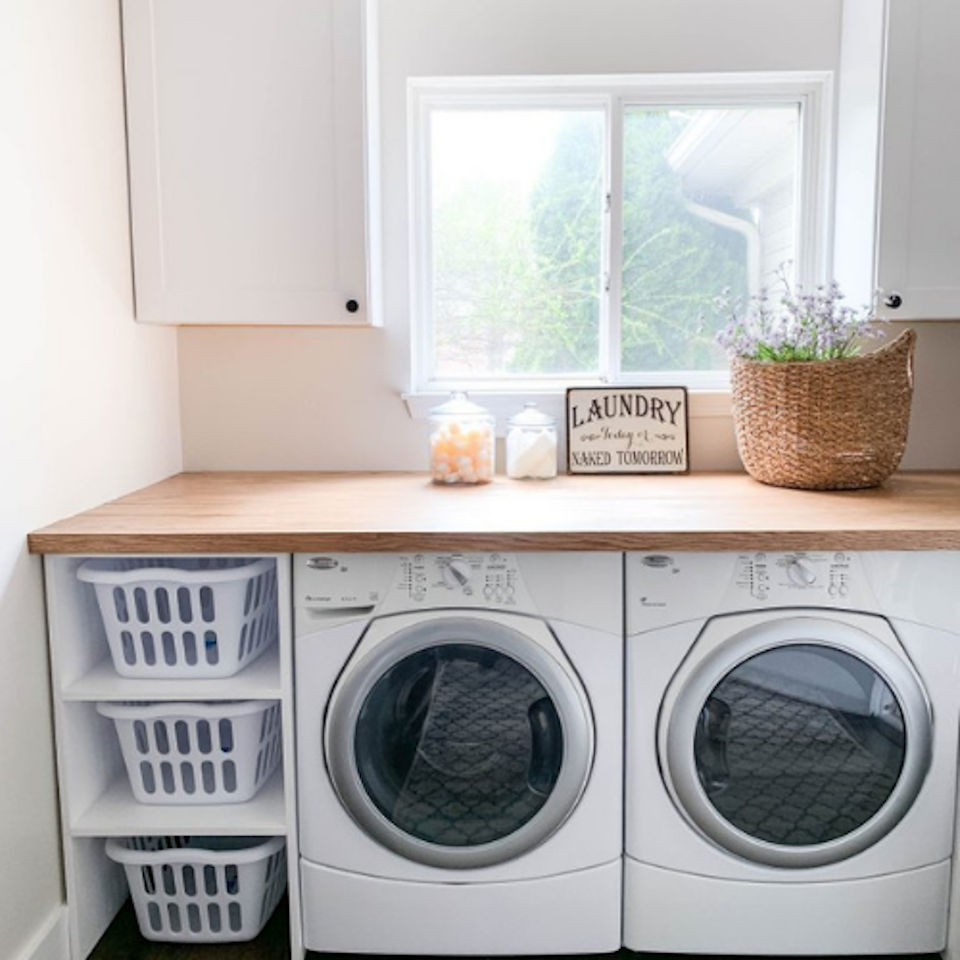 What does every Laundry Room need?
A fully functional laundry room should have: a washing machine, dryer, utility sink, ironing facilities, countertops, cabinets or open shelving, laundry baskets, task lighting, seating, hanging racks, adequate ventilation, natural light, and a place to safely store cleaning products.
How to Design a Laundry Room Layout?
Your laundry room design will usually be dictated by the available space and shape of the room. However, there are some key considerations that you need to think about when designing a layout to ensure it is as convenient and functional as possible.
Your washer and dryer will probably take up a significant portion of the room. That is why you should decide whether you will have front-loading or top-loading units. Top-loading units are not stackable, nor can they be placed beneath a countertop, meaning they take up more room.
A sink is recommended, but its size, and whether you can have a draining area or not, depends on how much countertop space you are willing to sacrifice.
Make sure there is enough room to iron and store your ironing board. A wall-mounted storage stand is generally the best option, or better yet, a storage stand behind a cupboard door.
When designing the layout, you should also determine where you plan to store dirty clothes, sort washed clothes, and where you can dry them. Ideally, this would all be within touching distance of the washing machine, but with a suitable distance between clean and dirty laundry.
How to utilize your Laundry Room walls
Your laundry room walls can provide a range of storage options, from cabinets, shelving, a clothes rail, hooks, and a place to hang your ironing board. If your laundry room is on a smaller scale, then it is vital to make the most of your wall space, ensuring everything can be stored away neatly but is also easy to reach.
Should I stack the Washer and Dryer?
Stacking your washer and dryer is a great space saver and is recommended if you want to create as much storage space as possible. You could also consider hiding away your washer and dryer in a cabinet for a sleeker design.
If you do choose to place your washer and dryer side-by-side, then having a countertop above them is a wise decision, giving you enough room to unload and sort your clothes. This layout is more suitable for larger rooms.
Modern Laundry Room Design Ideas from Professionals
SOD Home Group has been designing and installing custom laundry rooms since 2008, and in that time we have learned a thing or two about what can really make or break such a space. Here is a selection of our favorite tips and hacks.
Open shelving is our recommended choice for convenient storage. This allows easy access to everything you need and takes up much less room than fitted cabinets. Timber shelving and wicker baskets can also give the room a traditional feel.
Use water-resistant materials in your laundry room to ensure durability and longevity. Water will be an ever-present element of any laundry room, so make sure it can withstand spillages and moisture build-up.
Don't overlook design. The function is important, but your laundry room should also be welcoming and somewhere you can enjoy spending time. A harsh, sterile room will only make laundry even more of a chore.
Greenery can really brighten up a small space, so purchase some low-maintenance house plants that can bring some additional colors and nature to freshen up your laundry room.
Ventilation is extremely important to avoid the build-up of moisture, which can result in dampness and mold. If you do not have the luxury of a large window, then it may be a good idea to install a ventilation fan. A dehumidifier may also be a sensible investment.
Get in touch with SOD Home Group today to discuss how to create a modern and functional laundry room that can add value to your home.