Unexpected Challenges You May Face When Remodeling Your Kitchen
Before investing in a new kitchen it is sensible to take some time out and assess every aspect of the project, with many important kitchen remodel considerations often overlooked until having the project has already begun.
Whether you are looking for some quick and digestible kitchen remodel help or a more comprehensive overview of what a kitchen renovation project entails, we hope this guide provides the information you are looking for.
What are the main kitchen remodeling challenges?
1. Flooring
The floor of the kitchen can be a major problem area during a renovation job, as in some cases, the floor is uneven or in a poor condition when the previous cabinetry, tiles, and fittings have been removed. This means that work needs to be carried out to make sure the floor is flat, recesses are filled in, and any damage is repaired before the kitchen remodel can begin.
Many older homes can also see the floor dip over time, caused by an uneven foundation slab or a damaged joist. This sort of issue can be expensive to rectify and if left unfixed, it could result in even more damage further down the line.
Some flooring types can help to mask the problem in the short term but this 'out of sight, out of mind' approach is not recommended.
2. Plumbing and Electrical Requirements
The installation of utilities must be completed before any cabinetry and fittings can be installed, and this isn't always straightforward. In many cases, a new kitchen layout requires the relocation of outlets, switches, and cabling, while a new placement of the kitchen sink would also result in a drainage rethink.
This can be even more of a challenge if the existing plumbing or electrical work is in poor shape. Issues such as rusting and corrosion can complicate a simple replacement job, adding additional time to the project delivery date.
3. The Removal of Walls
The removal of a load-bearing wall can be a major undertaking that requires the services of a professional to ensure the project is carried out safely, with no structural damage to the property. This type of renovation also requires the necessary permits that can be arranged by your contractor.
A contractor can ensure that the frame of the house is continuously supported and the load is transferred evenly – getting this wrong can be disastrous and it is strongly advised not to attempt this without professional assistance.
4. Cabinets and Countertops
Extending your kitchen or altering the layout is going to result in new positions for your cabinets, possibly even different sizes, and more than likely, a new design.
This can be avoided by keeping the existing layout and sizing of your kitchen but in many cases, a kitchen remodel would result in significant changes, especially if you decide to adopt a modern, open plan kitchen/ dining area design.
New cabinets and countertops may not perfectly fit the contours of your kitchen which means that adjustments need to be made for a seamless finish.
A simple method of rectifying this is by using filler strips that are made out of the same material as your cabinet – these strips can be completely undetectable when fitted by an expert contractor. However, in a less than ideal situation, the cabinets themselves may need to be altered.
For a greater understanding of the challenges faced when delivering a kitchen remodel and the preparations that need to be made before such a project, speak to SOD Home Group to discuss your options.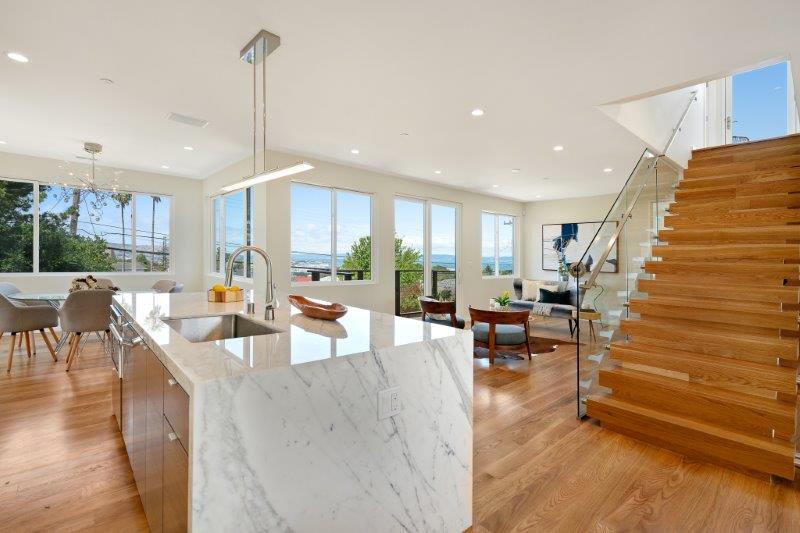 Considerations specifically for a small kitchen remodel
When renovating a small kitchen you should be considerate of the space you have to work with and how you can use clever design ideas to maximize the available area. This may seem easier said than done but creating a small kitchen that is both functional and stylish is completely possible.
Sometimes, a home addition/ extension is not always possible, nor is removing a wall to create a larger space. So here is a list of a few simple measures you can take to make a small kitchen feel much more functional.
Declutter – This can apply to any room in the house if you want to create more space and establish a stress-free environment, but removing unnecessary items from your kitchen can provide more storage and make room for new appliances.
Choose a sensible layout – Opting for an L-shape or galley layout is generally the best idea for a small kitchen as they provide enough space to prepare meals, easy access to the sink and appliances, while also offering more storage space without the room feeling too enclosed.
An L-shaped layout can also offer enough room to install an island if designed correctly. Speak to your chosen contractor about this possibility and how it might be implemented.
Avoid freestanding appliances – Choosing built-in appliances for your kitchen remodel can be a great space saver, with many modern innovations built specifically for small kitchens that can be hidden away in drawers and cabinets.
Consider your storage options – Deep drawers and cabinets are a must for any kitchen but you should also think of additional storage options to expertly store things in plain sight. Storage options such as plate holders and bottle racks can keep things in easy reach without looking untidy.
Introduce as much light as possible – One of the main worries about a small kitchen is a lack of natural light. If additional windows are not viable, then perhaps consider a roof light or sun tunnels – failing that, ambient artificial lighting can also get the job done.
How much is a kitchen renovation in California?
Below are three estimates for varying kitchen renovations in California.
A basic or small kitchen renovation could cost in the region of $15,000 to $22,000.
A mid-size kitchen renovation could cost in the region of $30,000 to $44,000.
A large kitchen remodeling project could cost in the region of $41,000 to $59,000.
However, these figures can increase significantly depending on factors such as:
Additional plumbing, HVAC, and electrical work
The removal of walls and any structural work that is required
The quality of the cabinets, countertops, and finishes
The installation of additional windows or doors
The installation of an island
The quality of the appliances
Why trust your project to experienced kitchen remodeling contractors?
A kitchen renovation is an advanced remodeling project that could be problematic for anyone who lacks the relevant experience, potentially resulting in costly mistakes and delays, turning the project into a DIY nightmare.
An experienced kitchen remodeling contractor can not only plan, design, and install the new kitchen, but they can also assist in obtaining the required permits and help source materials at a more cost-friendly rate.
Believe it or not, using the services of a professional can be far more affordable than attempting the project yourself in many cases.
Trusted kitchen remodeling companies near me
SOD Home Group has delivered high-quality and affordable kitchen remodeling projects across California since 2008, providing expert design services and employing experienced, certified contractors to carry out the work.
Get in touch with SOD Home Group today to discuss your options and make your dream kitchen a reality.