What Are The Latest Trends In Kitchen Remodeling?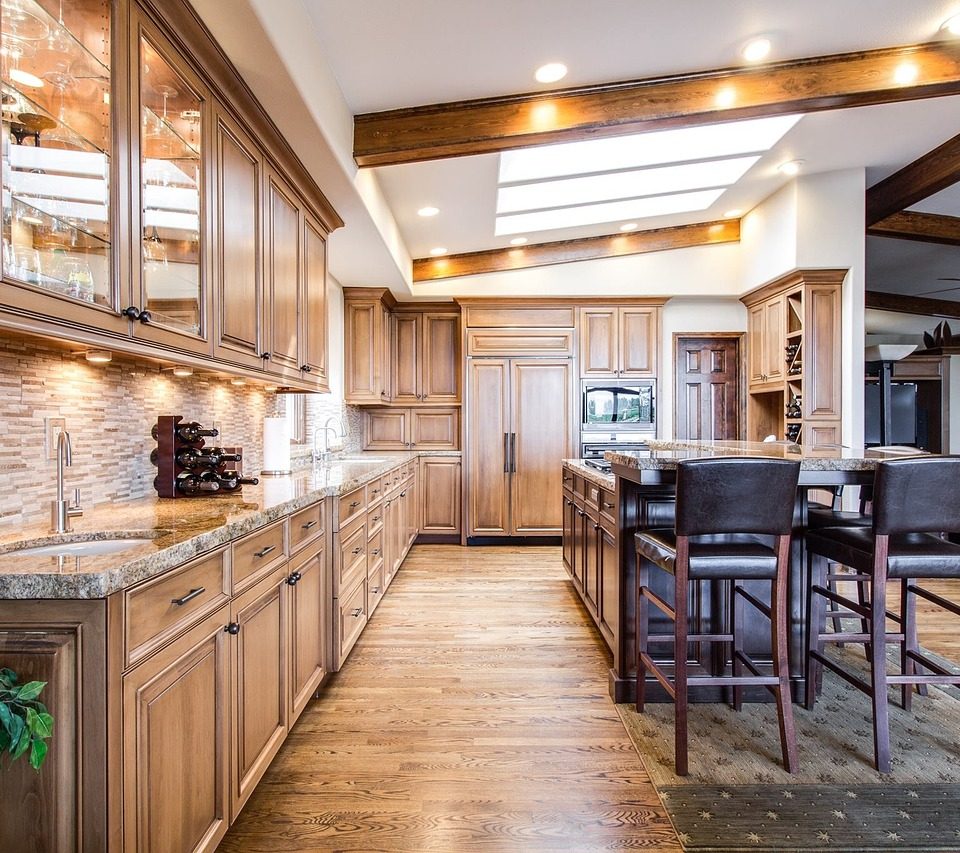 Kitchens are the heart and center of every home; an integral place where families gather together and bond over meals at different times of the day. The average American spends more than 400 hours in the kitchen each year. Moreover, it's usually the first thing new homeowners look at when they inspect a house. Hence, it doesn't come as a surprise that people go all out to make their kitchens more comfortable and attractive.
The interesting thing about the kitchen is that they keep evolving. Kitchens today look very different from the kitchen in the '60s or '90s. The best thing about a kitchen is that you can remodel your kitchen to make it stand out without having to rebuild the whole thing.
At SOD Home Group, we understand the importance of kitchens and why you want to upgrade yours. We have created this kitchen remodeling guide that covers the latest trends in kitchen remodeling so you can pick the right one.
Let's get started:
A Little About Kitchen Remodeling 
Many homeowners wonder if remodeling their kitchens is worth it or not.
Since kitchens are frequently used and tend to get messier than other rooms, we would recommend upgrading your kitchen every 6 to 10 years. This is important not only because the kitchen starts to look dull after a point but also because the trend usually changes every ten years. A modern kitchen remodel will boost the overall aesthetic of your house, add comfort, improve functionality, and boost the resale value of your property.
According to Better Homes and Gardens, you can expect to recoup around 52% of the amount you spend on remodeling your kitchen. Also, if you do it right, you could even profit from it as some changes offer very high returns.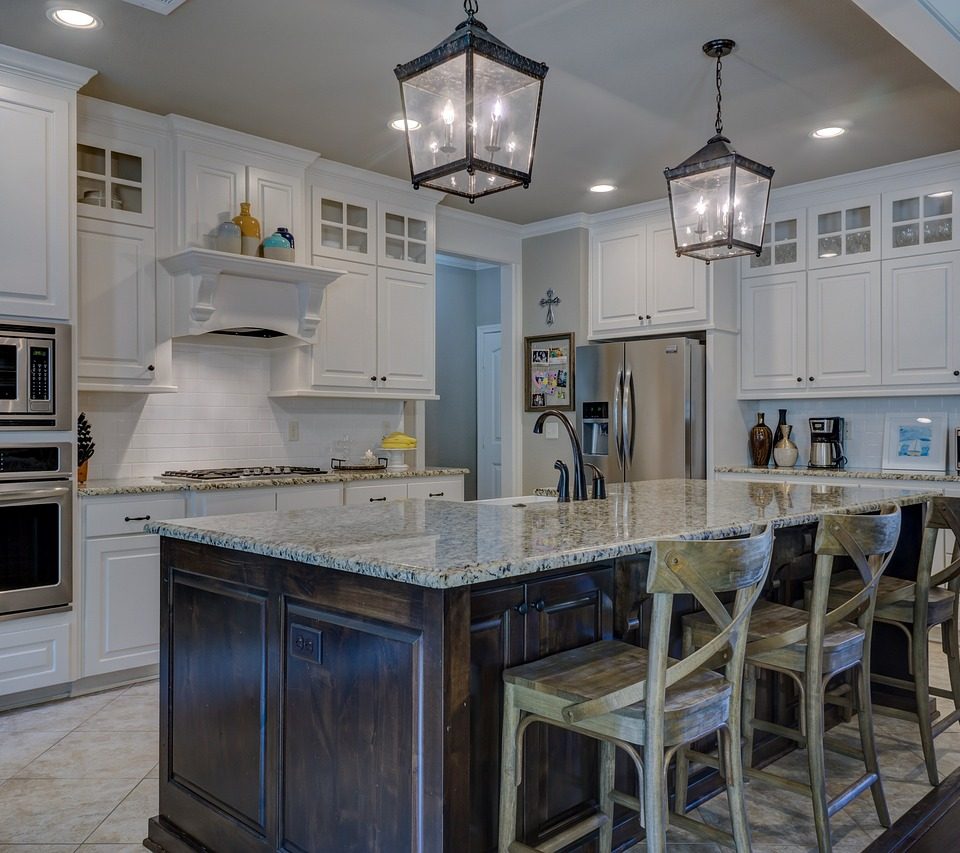 The Latest Trends In Kitchen Remodeling 
Though not necessary, following the latest trends will allow you to give your house a modern look and add functionality to your kitchen. It is important to be able to differentiate between a fad and a trend so you can focus on the more beneficial part.
Given below are some of the latest kitchen remodeling trends suggested by our experts:
Add Storage Space 
Talk to your contractor and add more storage to your kitchen. This can be done by installing new cabinets and drawers and utilizing the available space. This will increase functionality and give you more space to keep your electronics and utensils.
Some of the latest storage solutions include dividers for drawers and trays, mini garages for small appliances and cutlery, and pull-out shelves for spices. However, make sure to only add new storage space if there's enough empty space in the kitchen. Do not make the mistake of not leaving enough space to move around.
Use Dark Colors 
Darker colors such as shades of green, blue, and gray are in demand this year. You can incorporate these colors into flooring, paint, cabinets, etc. Gone are the days of black or all-white kitchens. Though still popular, they're slowly fading out. You can, however, combine white with some darker tones to give your kitchen a stylish look. Shades of blue, green, and even purple work well with white.
Go For Quartz Countertops
Quartz has been in style for a while and continues to rule the kitchen. It is affordable, easy to maintain, and highly durable. Plus, it is smooth to the touch and provides a shiny finish that can make a dull kitchen stand out. If you don't already have quartz countertops then work with your contract to introduce this material to your kitchen.
You can choose from a variety of patterns, colors, and finishing techniques, including styles that mimic the look of natural stone. Some of this year's most trending quartz colors include:
5003 Piatra Gray Caesarstone
5100 Vanilla Noir Caesarstone
5380 Emperadoro Caesarstone
6338 Woodlands Caesarstone
6611 Himalayan Moon Caesarstone
8531 Profondo Caesarstone
4033 Rugged Concrete Caesarstone
2003 Concrete Caesarstone
Mirrored Cabinets 
Mirrored cabinets are getting more and more popular. The opinion on them appears to be divided, however, many celebs seem to be following this kitchen trend so consider adding mirrored cabinets to your kitchen.
This technique can be a great way to make your kitchens appear brighter and more spacious.
Layered Lighting 
Our experts recommend going for layered lighting since it adds to the comfort and ambiance of the kitchen. In addition to aesthetics, layered lighting is a modern trend that will enhance the atmosphere and boost functionality by providing better lighting.
Good lighting will make it more fun to cook your favorite dishes and click Instagram-worthy photos. Plus, it can be used to enhance the mood, especially if you enjoy eating in the kitchen.
Doorways to the Outside  
Another trend that has been on the rise is adding doorways to connect your kitchen with the outside world. Go for a glass door or install wall-length windows to get a good view or instant access to the outside space.
Also, if that isn't possible then consider adding some greenery to your kitchen by placing small pots where you can. This trend is fast making a comeback as it offers several benefits. You can keep some herbs and get your hands on fresh greens. Plus, plants can control humidity and keep respiratory issues at bay.
Textured Walls And Surfaces 
Textured surfaces can make your kitchen look inviting and unique. Consider adding textured walls to your kitchen and use texture smartly to cover minor flaws.
Undermount Kitchen Sinks 
Go for a modern sink trend like the undermount kitchen sink and add flair and extravagance to your kitchen. Undermount kitchen sinks are not just in style but are also a wise choice since they are low-maintenance and extremely durable.
This completes our kitchen remodeling trend roundup for the year 2022. We expect these trends to make a mark in 2023 as well. Remember, the secret lies in small details.
Pay attention to small things such as color, lighting, and layout. Also, make sure to not compromise on utility or functionality in the name of style. Your kitchen needs to be effective and easy to move in and around. Talk to us today about how we can help give your kitchen a new look.