What to Consider Before Remodeling a Kitchen?
kitchen is a place where we spend a lot of time in the house. We start our morning with a cup of coffee, eat and socialize here with our family. We come back here for every glass of water throughout the day and invite friends for a cozy dinner. We may spend a relaxing late evening after a stressful working day alone with a glass of wine and a candle.
Having your dream kitchen design means you will be satisfied with every minute spent here. Having the most up-to-date kitchen with professional space planning means you will save your time and efforts while enjoying the functionality that this place is meant to offer.
Below you will find important kitchen remodeling tips before you start remodeling your kitchen to make this experience smooth and pleasant.
Consider your remodeling needs
Before planning the renovation, it is recommended that you make it clear for yourself what goal you are pursuing. Are you just about making your kitchen look new and up-to-date?
Is everything obsolete, and you can't use it anymore? Or is it maybe about the need for new colors, brightness, and openness that you need now for your kitchen gatherings?
Consider the kitchen layout
The kitchen layout is what will affect your kitchen usage, movement through space, and the comfortable storage of all cooking stuff. The proper kitchen work triangle allows saving micro motions, and, at the end of the day, the cooking person is less tired than in a badly designed room.
The five basic kitchen layouts include
one-wall layout
L-shape
G-shape
U-shape
galley
They are typically chosen based on the size and shape of the room as well as the personal preferences of the owner and the furniture pieces / electronic devices desired to include.
Sometimes, a U-shape means you have more storage space and also work surfaces for cooking. On the other hand, a kitchen with a U-shaped layout may not leave space to put a large table with many sitting places for a large family or many friends to invite.
Another nice option to mind is the outdoor kitchen. Especially in the California area because of the favorable climate. A simple patio design is what's needed to organize the space. BBQ island is a frequent option to choose from.
Remember that the choice of your layout is limited by and should correspond to your remodeling budget. The more working space and appliances you want to fit in, the costlier it will be.
Keeping the same layout as previously can be an effective way to save costs on renovation.
Get in touch today, because we'd love to hear more about your kitchen remodeling projects!
Consider the order of renovation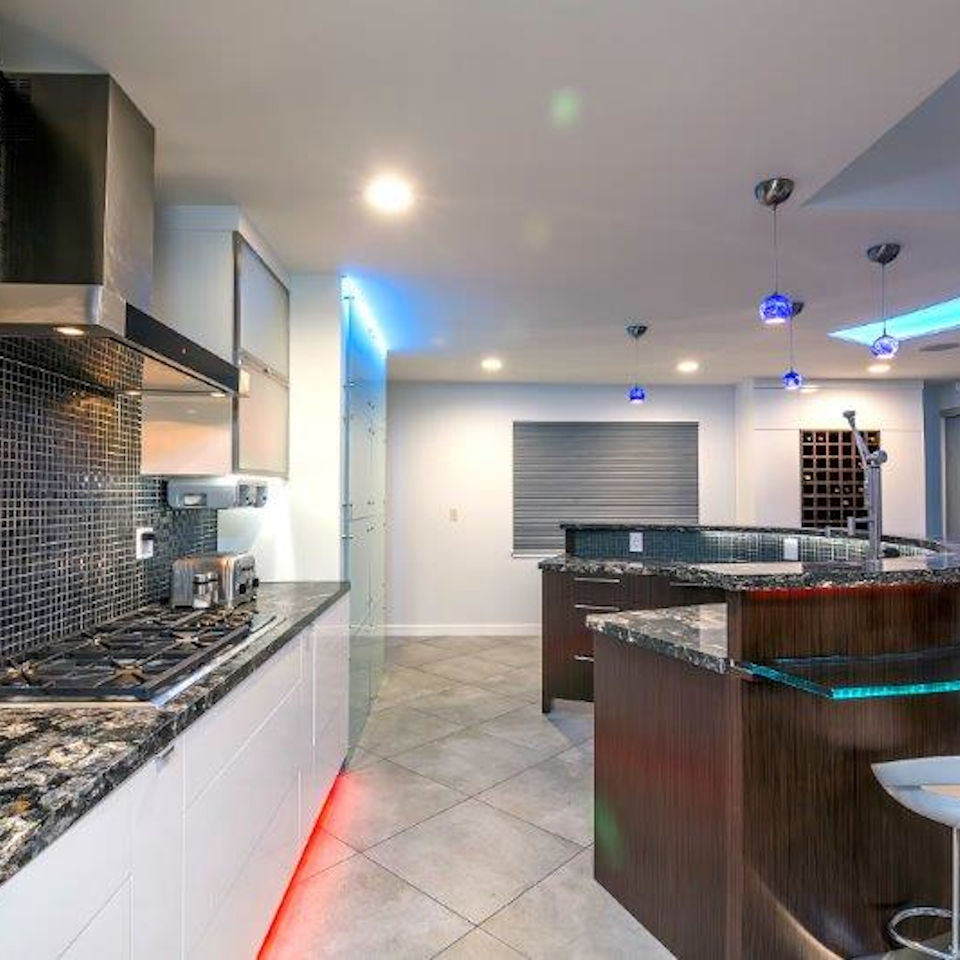 The order of renovation matters but before planning the steps, remember to set your priorities. If your cabinet is falling apart, but the walls and the ceiling are good, you may only want to concentrate on furniture and appliances. If everything is too old, maybe you would want to start from scratch and design every tiniest detail, such as light spots and refrigerator color.
Usually, the following steps are followed during kitchen remodeling if the project implies full renovation:
floor and layout planning and budgeting.

demolishing the outdated stuff, including wall coverage.

framing and plumbing.

professional inspecting and resolving supplies.

making the walls.

kitchen cabinets installment.

installing appliances and electrical devices and the light.

flooring (may also go before the cabinets).

testing the outcome.
Sketching the plan of your kitchen and writing down the required renovation steps will be of great help to understand its duration and cost. Budgeting options are discussed below, but the cost planning is inevitably linked to the correct sequence of actions or, otherwise, extra costs may arise.
Consider your budget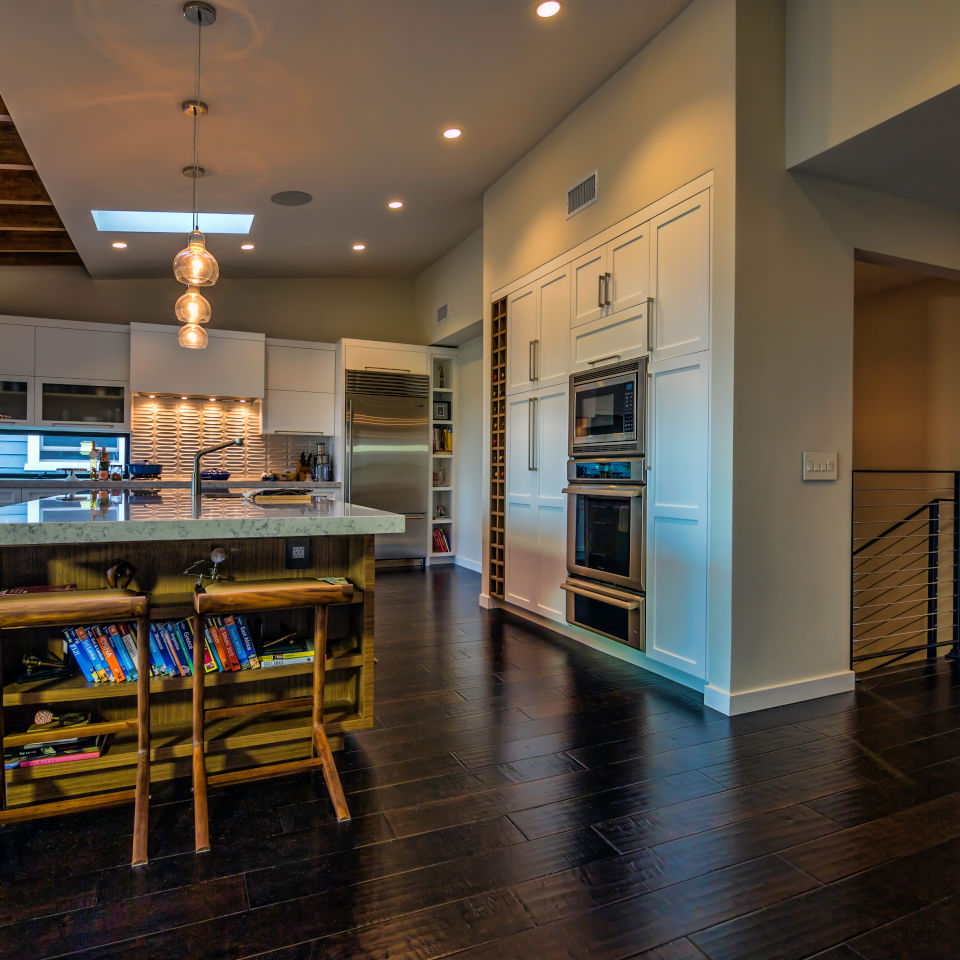 Kitchen remodeling is usually the most costly project of all remodeling types, including bath remodeling. Creating a correct budget for renovating your kitchen might be the key to getting satisfied with the project.
There exist options to remodel, which are under $2,000. These normally include:
replacing the panels
covering the countertop with stretches
repainting the walls anew or just reaching visual impact by changing colors and playing with space perception in the cheapest ways.
About one-third of the total budget goes for cabinets and one-fourth for labor. 10-15% account for appliances. The rest covers:
flooring
electricals
countertops
plumbing
permits
resolving unexpected challenges faced.
The key to low budgeting is usually about preferring to refresh rather than replace (furniture, work surfaces, floor). Refacing is what makes the cabinet look really different from the previous version but keeps most part of the furniture.
Open shelving is another option to save costs, along with doing some repair works on your own. Of course, remodeling costs may reach $40,000-$80,000 or even more if you replace everything, change the major layout considerably (which often requires extra solutions for electricity and water supplies) and start creating your kitchen from scratch.
High-quality materials for the most frequently used work surfaces and the fireplace are a must to make the kitchen serve you long.
Keep a spreadsheet to list all your key elements to include as well as the materials needed for renovating the walls, the floor, and the ceiling.
Mark elements that can be removed with a separate color. Estimate the cost of each, add some price buffer as a calculated percentage and also add the cost of associated work to be done.
Thus, you will have your preliminary budget ready as a tool for managing your project costs by adding or removing extra elements.
Conclusion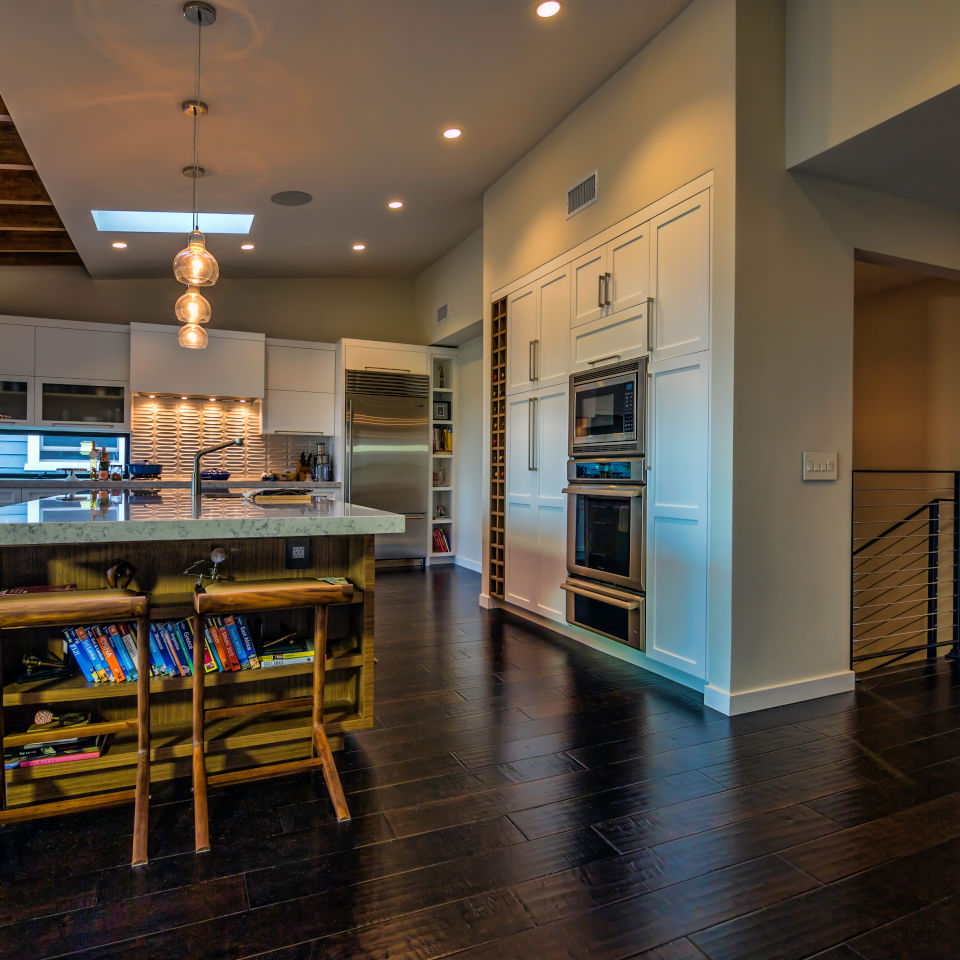 The home aesthetic is especially well felt in the kitchen, where people start their day, cook using a high number of tools and appliances, socialize with family and friends, and feel cozy.
Often, the kitchen may be perceived as obsolete if not renovated for decades, or old color choices may start irritating or stop being inspiring. Because color and design affect the perception of space, even the simplest renovation of your kitchen may have an enormous psychological effect.
Before starting your kitchen remodeling:
mind your significant needs and wants, 

mind your resources, especially the budget

remember to turn to an expert for professional advice to save your nerve. 
For a free consultation – click here
Your dream may cost you $2,000 or $80,000 depending on your dream scale, so do your planning carefully and rely on the experience of others to avoid making unnecessary costly mistakes.
Focus on your priorities and prefer spending extra on the quality of kitchen elements that matter instead of accessories that can be removed without any effect on the project's primary purpose.