When to Consider a Kitchen Expansion to Increase Space?
The kitchen is arguably the most used room in the house, so maximizing space is important for many homeowners. However, there are many limitations when working with a smaller kitchen and a lack of storage and room for appliances, as well as limited worktop space, can lead to annoying, and sometimes stressful situations.
So what are the options? One would be a renovation project to extend the kitchen, which can be achieved in numerous ways, so it is important to know the advantages of each project type before committing. Knowing when to consider a kitchen expansion is all about research and planning. In the article, we'll walk through all the considerations of a kitchen renovation and expansion project.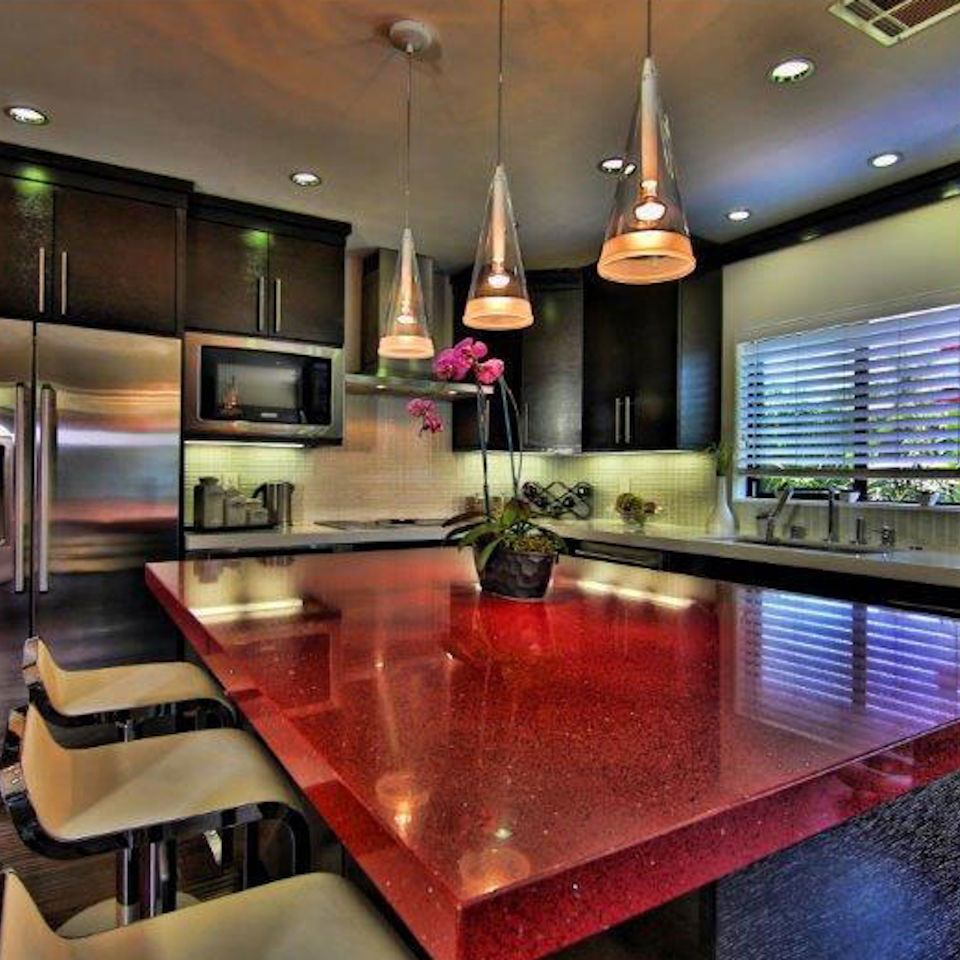 How to Expand a Small Kitchen
If you feel your small kitchen has become unmanageable,  it's probably time to consider a kitchen expansion. The most effective option is a full remodeling project to create additional space by incorporating other rooms or outdoor space.
A full or partial remodel can not only create additional room but provide an opportunity for a complete change to the kitchen's layout, so the space is ideally suited to your wants and needs. Like any major renovation project, it would require an initial outlay but expanding a small kitchen will add value to your home, making it a worthwhile investment if a move is on the cards in the coming years.
Alternatively, if you plan to stay in the same home for decades rather than years, you need to ask yourself, can you really make do with a small and limited kitchen for that length of time?
A typical renovation can take a matter of weeks when completed by a professional, or perhaps months if undertaken as a DIY project, assuming there are no hiccups.
The first step would be to consult with a kitchen designer who can suggest a workable layout and identify where additional space can be gained. Once a layout has been established, you can then begin to think about interior design so materials and fittings have been ordered and are ready to install once the contractor has completed the remodeling work.
Good planning and forward thinking are essential for a successful kitchen remodel.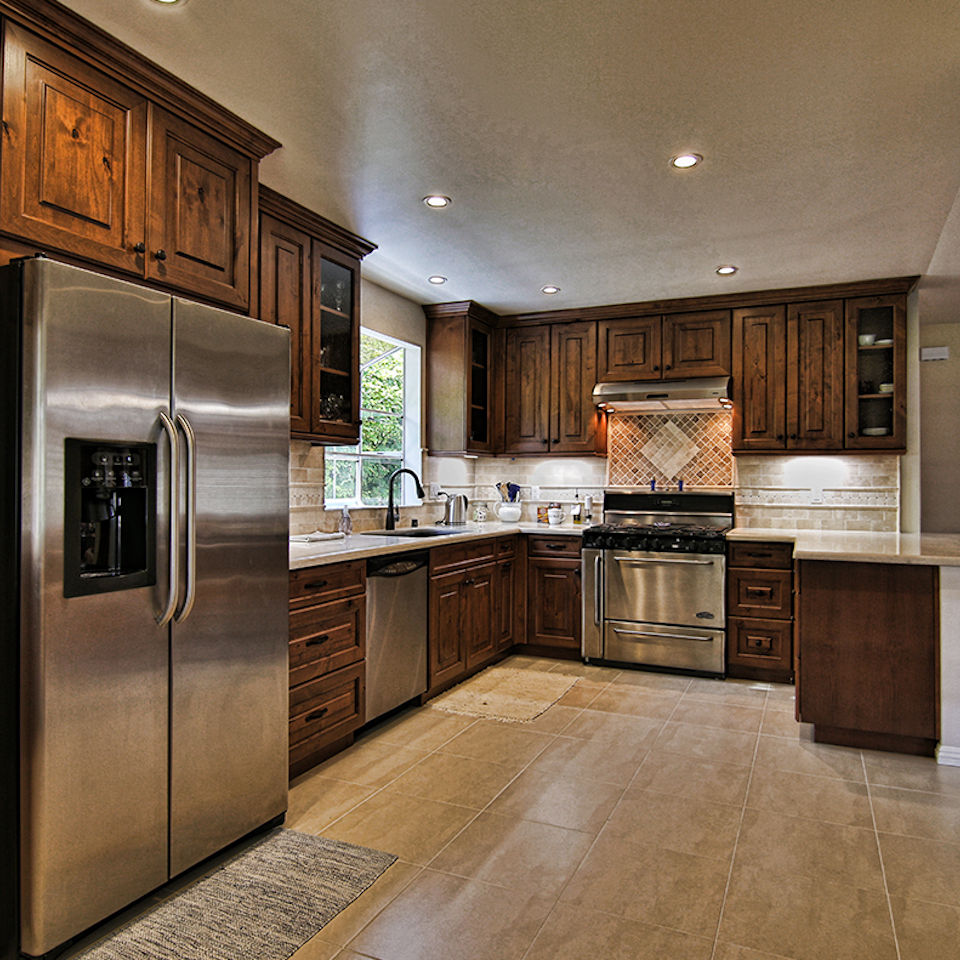 Kitchen Expansion Costs – what to expect
Whether it is a major or minor kitchen remodel, planning and budgeting is key to reducing costs and ensuring the project is financially viable. As a general rule, many experts would suggest budgeting between $2000 per square meter, but obviously, many other considerations can dictate the cost of any home remodeling project.
These factors could include:
Additional plumbing requirements
Changes to the electrical layout
Demolition of walls
Underlying issues being identified during the renovation
The quality of the materials used
The quality of the fittings and finishings
Delays and miscalculations
Using a trusted and experienced remodeling contractor can help prevent some of these issues, such as miscalculations and unwanted delays caused by poor planning, a lack of experience, or mistakes being made. A contractor can also help with high-quality source materials at a cheaper cost, and many provide interior design services to offer a full package – reducing the number of people involved in the project.
Click here for more details about our kitchen remodeling process.
What is a kitchen bump-out?
A kitchen bump-out is simply an extension to your existing kitchen, adding more space via your back yard or side yard, which is less intrusive than eating into other rooms in your house. This single-story extension is one of the simplest methods of enlarging a kitchen and can significantly increase the size of the room depending on the available outside space.
A kitchen bump-out can help to provide additional storage space, a new utility area, or even make room for the installation of a modern kitchen island. Not only this, but the return of investment in terms of the value of your home is also very favorable.
As well as increasing the square footage of the kitchen, a bump out can also help to improve the overall flow of the room, helping to make life easier during meal times and the subsequent clean-up. A larger, more free-flowing kitchen simply makes for a more stress-free, comfortable environment for the entire family.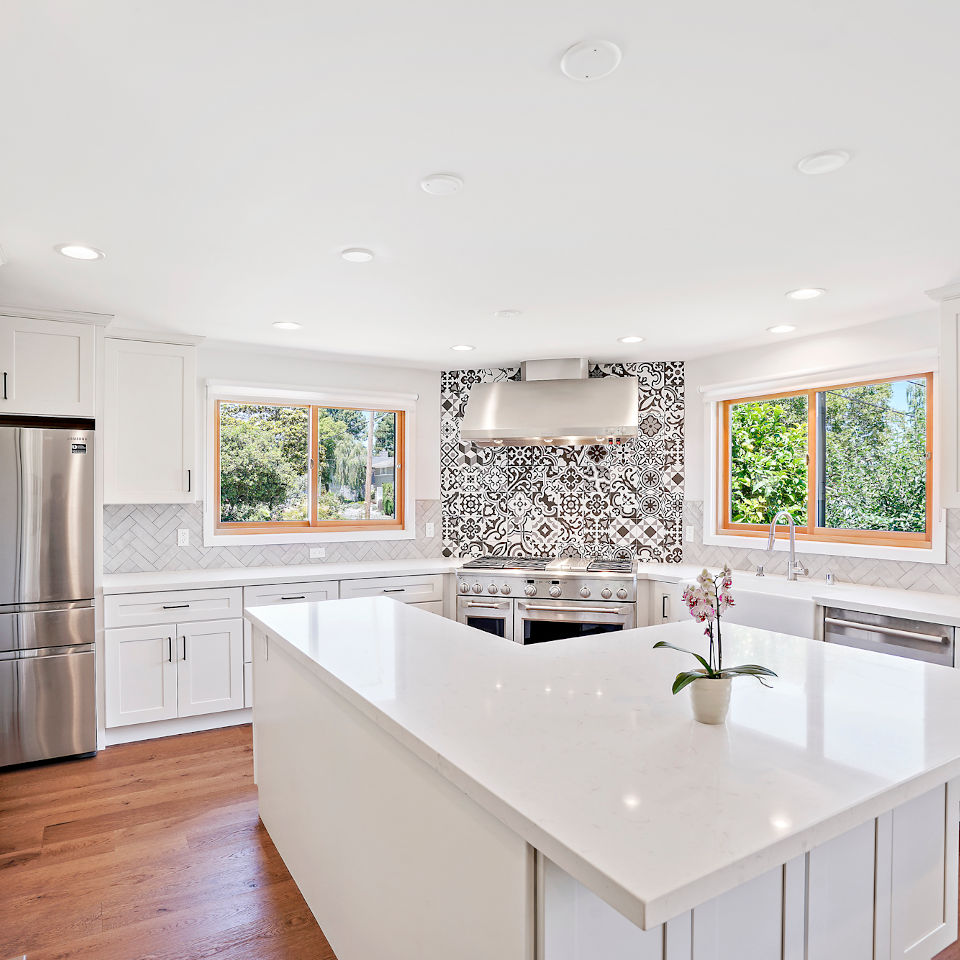 How do you expand a narrow kitchen?
Below are four ways you can expand the size of a narrow (alley) kitchen:
Removal of an interior wall
A common solution to expanding a narrow kitchen is by removing an interior wall that is nonstructural, which can cause minimal disruption and is less expensive than other alternatives. Removing an interior wall can also allow for an open plan kitchen/ dining room to create a fantastic social space and create more space and light. 
Create a pass-through opening
This is similar to the above option, but instead of removing the interior wall in its entirety, a pass-through creates an opening that provides the illusion of extra space and improves the overall flow of the home. This could be a good solution for smaller homes and budgets.
Many Californian homes feature large pantries, becoming redundant and a waste of space. If this sounds familiar, then it may be wise to remove the pantry altogether, give the kitchen an extra few feet of space to create an additional workspace, or perhaps relocate the washer and dryer.
A bump-out or a full 

home remodeling

 project

 
If none of the above options are suitable and you want to transform your home into a more liveable and modern space. Then a bump-out or a full remodel may be the solution. This will give you maximum flexibility to create a kitchen and living space that meets your requirements while increasing the value of your home.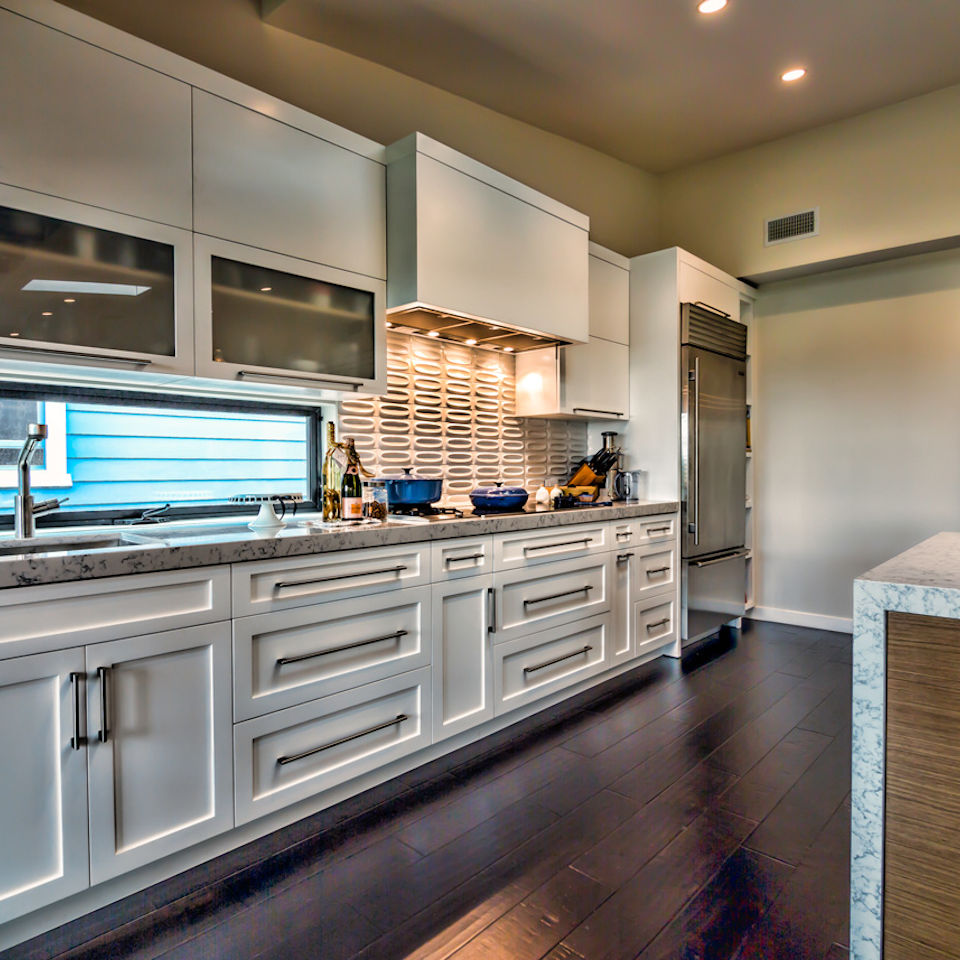 How do you modify a kitchen layout?
Extending the kitchen may not necessarily be the only solution to achieve a more workable area. The overall space may feel cramped and inconvenient purely because of a poor layout which can be rectified by a kitchen remodel which modifies this layout and makes the most of what is available.
A kitchen designer can help you create a floor plan which rectifies any layout issues which have made you fall out of love with your kitchen. These tweaks can be as simple as relocating the sink area, reducing the size of worktops, adding more shelving or cupboards, or re-thinking the workflow of the room.
With professional input, you can not only ensure speedy project delivery, but you can also ensure your kitchen is as functional and convenient as possible, so it can be enjoyed for years to come. With 3D modeling, you can also see how the finished product will look before a single tile has been removed, or cupboard door unscrewed.
SOD Home Group are trusted contractors working out of California with extensive expertise in kitchen-related projects, so whether you are looking for kitchen design in San Jose, or bespoke kitchen remodeling in Irvine, SOD Home Group can deliver.